Trade Resources
Welcome to Australian Wildlife Journey's Trade hub. In addition to the resources found on this website, we hope that it will enhance itinerary planning, product ideas and provide general information on Australia's wildlife to share with your clients.
Make sure you are kept up to date by subscribing to our trade communications by clicking here (we average a communication update every couple of months).
The third edition of the Australian Wildlife Journeys' brochure was released on August 1, 2020. Member sections include an index of available wildlife experiences, guide profiles and detailed itineraries for iconic tours. Viewing calendars for iconic species across each region have also been updated.


To order a hard copy of the brochure, please fill out the following form

New 'Our Story' Video Series - 2020/2021
Please find links below to download 'our story' videos for each Australian Wildlfie Journeys member in HD resolution. These 4-5 minute videos incorporate sit down interviews with principals or lead guides, combined with stunning b-roll footage of each region's landscapes and wildlife.



Australian Coastal Safaris 'Our Story' - mp4 file (190 MB)
Exceptional Kangaroo Island 'Our Story' - mp4 file (189 MB)
Exmouth Dive & Whalesharks Ningaloo 'Our Story' - mp4 file (187 MB)
FNQ Nature Tours 'Our Story' - mp4 file (180 MB)
Lords Kakadu & Arnhemland Safaris 'Our Story' - mp4 file (208 MB)
Naturaliste Charters 'Our Story' - mp4 file (183 MB)
The Maria Island Walk 'Our Story' - mp4 file (170 MB)
Latest Webinar Recordings
Australian Stories - Tourism Australia (May 5, 2021)
Tourism Australia recently launched a new webinar series, called Australian Stories. This series showcases particular sectors of the Australian tourism industry, shining a light on our local heroes and uncovering the stories that make it a truly unique destination.
This panel webinar was moderated by John Daw, Executive Officer of Australian Wildlife Journeys integrating discussions with FNQ Nature Tours (James Boettcher), Naturaliste Charters (Pia Markovic & Nakita Field) and Echidna Walkabout Nature Tours (Janine Duffy) about iconic and emerging wildlife encounters across Far North Queensland, Victoria, and Southwest Western Australia and ways for guests to engage with 'conservation in action' activities.

Rates, Contracting & Commission - Third Edition (Updated August 2020)
The Australian Wildlife Journeys tariff manual can be downloaded here (PDF, 3MB), covering gross rates, terms and conditions and booking policies for member experiences listed on the website.
Alternatively, please contact members directly via the following contact details:

Recent Trade & Media Newsletters
You can sign up for our quarterly trade newsletter by clicking here. Previous editions can be found below: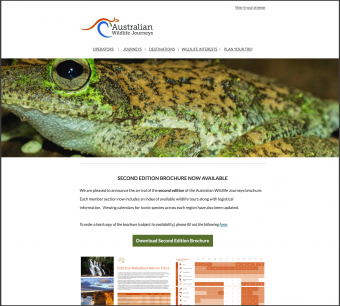 Trade Newsletter - December 2020
Trade Newsletter - September 2020

Images and Videos
A brilliant selection of images and films are available to download free from Tourism Australia's image and video galleries.
Aussie Specialist Training Module
For our trade distribution partners, Australian Wildlife Journeys has a dedicated Aussie Specialist module. This module provides a terrific overview of our iconic wildlife tourism experiences and viewing opportunities across Australia along with AWJ members. When you complete this along with some other base modules, you will become a qualified 'Aussie Specialist'. Get qualified here now!
Insider Access Factsheets
The 'Insider Access' series is a collection of stories, based on interviews with our guides or personalities covering a vast array of passion points and tailor-made experiences. Each factsheet contains a handful of stories for each AWJ member, with several related to sustainability or 'conservation in action' activities.


Australian Coastal Safaris
Insider Access
(PDF, 7MB)

Echidna Walkabout Nature Tours
Insider Access
(PDF, 8MB)

FNQ Nature Tours
Insider Access
(PDF, 8MB)

Lords Kakadu & Arnhemland Safaris
Insider Access
(PDF, 8MB)

Naturaliste Charters
Insider Access
(PDF, 6MB)

Premier Travel Tasmania
Insider Access
(PDF, 9MB)

Exmouth Dive & Whalesharks Ningaloo
Insider Access
(PDF, 8MB)

The Maria Island Walk
Insider Access
(PDF, 9MB)
Contact Us
Australian Wildlife Journeys
1139 Playford Highway,
Cygnet River, SA, 5223
John Daw - Executive Officer
Email: john@australianwildlifejourneys.com