Trade Resources
Welcome to Australian Wildlife Journey's Trade hub. In addition to the resources found on this website, we hope that it will enhance itinerary planning, product ideas and provide general information on Australia's wildlife to share with your clients.
Make sure you are kept up to date by subscribing to our trade communications by clicking here (we average a communication update every couple of months).
Brochure Downloads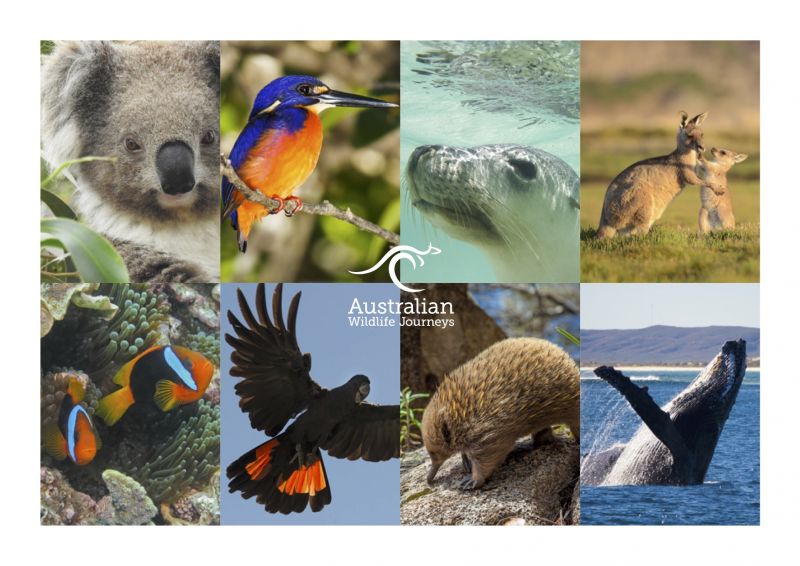 This publication contains a summary of the members of Australian Wildlife Journeys, along with the touring experiences being provided. Special attention has been placed on addressing seasonality by including regional viewing calendars for iconic species, along with logistical information related to each experience.
If you would like to order a hard copy, please request here.
On the Ground Training Updates: Webinar Recordings
Australian Coastal Safaris (David Doudle) - May 2019, Presentation (11 MB) available here.
FNQ Nature Tours (James Boettcher) - June 2019, Presentation (3 MB) available here.
The Maria Island Walk (Ian Johnstone) - July 2019, Presentation (6 MB) available here.
Exmouth Dive & Whalesharks Ningaloo (Deb Ferguson) - July 2019 starts at 20 minute mark, Presentation (5 MB) available here.
Boutique Wildlife Tours (Brad Lowe) - August 2019, Presentation (5 MB) available here.
Exceptional Kangaroo Island (Blair Wickham) - August 2019 starts at 20 minute mark, Presentation available here.
Echidna Walkabout Nature Tours (Janine Duffy) - September 2019
Naturaliste Charters (Nakita Field) - October 2019, Presentation (7 MB) available here.
Premier Travel Tasmania (Christina Schulthess) - November 2019, Presentation (8 MB) available here.
Recent Trade & Media Newsletters
You can sign up for our quarterly trade newsletter by clicking here. Previous editions can be found below: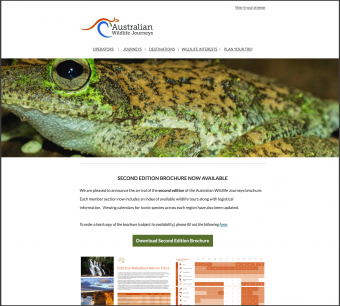 Trade Newsletter - December 2019
Trade Newsletter - September 2019
Trade Newsletter - October 2018

Images and Videos
A brilliant selection of images and films are available to download free from Tourism Australia's image and video galleries.
Aussie Specialist Training Module
For our trade distribution partners, Australian Wildlife Journeys has a dedicated Aussie Specialist module. This module provides a terrific overview of our iconic wildlife tourism experiences and viewing opportunities across Australia along with AWJ members. When you complete this along with some other base modules, you will become a qualified 'Aussie Specialist'. Get qualified here now!
Contact Us
Australian Wildlife Journeys
1139 Playford Highway,
Cygnet River, SA, 5223
John Daw - Executive Officer
Email: john@australianwildlifejourneys.com