SDG 12: Responsible Consumption and Production
SDG 12: Responsible Consumption and Production
Responsible Consumption & Production
Australian Wildlife Journeys supports the need to urgently reduce every individual's ecological footprint by changing the production and consumption of goods and resources by abiding by the mantra of Reduce, Recycle, Reuse. Across the collective, single plastics have either been phased out or are close to being phased out completely, with the following best practices in place.
Usage of cutlery, crockery and food containers made up of enamel, metal or hard recyclable plastic, with all these items washed and re-used. When hard plastic items wear out, the majority of members are now replacing with plant-based biodegradable alternatives, metal, sustainable timber, recycled paper or cardboard, fabric or wicker.
Packing of food items into re-usable, washable canvas bags, stay-fresh green bags or cardboard boxes with preference to suppliers committed to reduced plastic packaging and sharing the same values to using minimal single use packaging.
Requesting guests to bring re-usable drink bottles and re-fill from filtered water sources or taps.
Collection of recyclable materials such as paper, cardboard, aluminium and glass delivered to local depots.
A commitment to minimising food waste and constant refinement of the quantity and type of food served to guests to reduce food mileage. Several members compost food scraps into local gardens or areas to enhance the fertility of soils to support native plants including Echidna Walkabout Nature Tours, Murray River Trails, Exceptional Kangaroo Island, Australian Coastal Safaris and Indian Ocean Experiences.


Reuse, Refuse and Rethink Campaign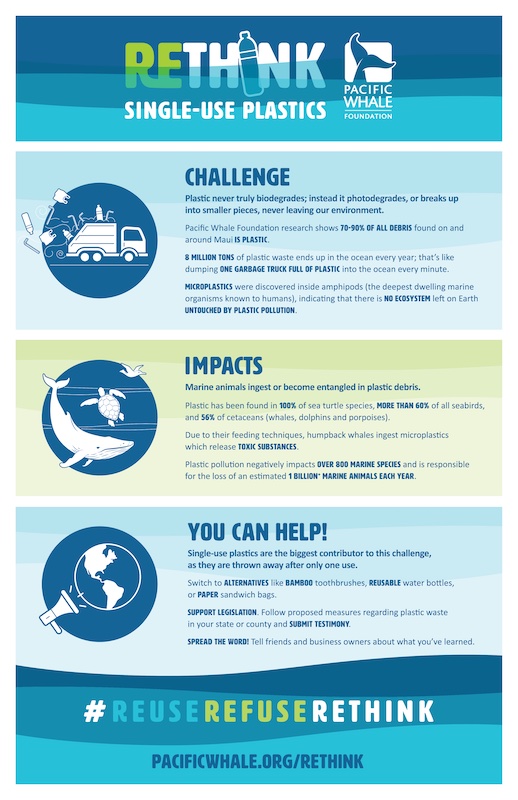 Pacific Whale Foundation's RETHINK campaign champions alternatives to everyday single-use plastics in an effort to save marine life. Plastic never truly biodegrades, breaking up into smaller pieces that remain in our environment. As plastic breaks into tiny pieces, it's ingested by marine organisms and permeates the food chain. Plastic polymers include noxious chemical additives and contaminants, with evidence that toxins disrupt endocrine systems, even at low concentrations for marine life. It has been estimated that up to 1 billion marine animals die each year from plastic pollution. Pacific Whale Foundation run a Plastic Pollution Solutions program for schools, beach cleanups, marine debris and prevention research and have produced a series of factsheets and tips for download, to Reduce and Rethink single plastics usage.
Rubbish Minimisation on Maria Island
The team behind The Maria Island Walk pride themselves on generating less than one bag of rubbish throughout the four-day experience, which accommodates up to 12 people. Their on-site robust waste management system includes cleaning and sorting recyclable materials, and ensuring all organic waste is composted. Keep Cups and reusable water bottles are given to guests to avoid single-use items.
Eradicating Single Use Plastics with Containers for Change
On board the Alison-Maree vessel, guests will not find any single use plastics. In 2018, Naturaliste Charters committed to being plastic free, replacing disposable coffee cups and lids with bio-cups which are compostable and manufactured sustainably, and replacing plastic bottles with a hydration system to serve fresh, filtered and chilled water. Any cans that the organisation sells or other recyclable items are dropped to Containers for Change, who cash in 10 cents per item, which is donated directly to local environmental organisations and charities.