SDG 4: Quality Education - Educational Programs and Schools
SDG 4: Quality Education - Educational Programs and Schools
Educational Programs & Schools
Since launching in 2017, the Australian Wildlife Journeys collective has provided a conduit with the academic and wildlife specialist fraternity, incorporating in-house and third-party experts to provide an amplified focus on conservation and scientific research within itineraries. Several members have a long history catering to alumni associations, professional groups, conservation bodies, zoological societies and museums. In addition to experiences for special interest groups, several members have developed educational programs for schools and universities, to foster the next generation of environmental custodians.
Special Departures with Researchers and Conservationists
The Australian Wildlife Journeys collective affords guests the opportunity to connect with the some of the country's leading wildlife researchers. Although all experiences across the portfolio have important educational elements for our guests, a total of 17 experiences have been specifically curated, including several supporting the Australian Geographic Society.+
Member Featured Experiences

Australian Coastal Safaris

Southern Eyre Peninsula Birdwatching with Fran Solly

Echidna Walkabout Nature Tours

Koala Recovery Experience, East Gippsland Wildlife Journey & Mungo Outback Journey with Janine Duffy & Koala Clancy Foundation research team

Exmouth Dive & Whalesharks Ningaloo

Behind the Scenes with Manta Rays with Amelia Armstrong from Project Manta

Exceptional Kangaroo Island

Conservation Connection with Dr Peggy Rismiller from Pelican Lagoon Research Centre, Dr David Paton from BioR and Heidi Groffen from KI Land for Wildlife

FNQ Nature Tours

4 Day Nature, Wildlife & Conservation Safari with Alberto Vale from Australian Quoll Conservancy, Dr Karen Coombes from Tree Roo Rescue

Indian Ocean Experiences

Citizen Science Week with Brendan Tiernan from Christmas Island National Park, Bird & Nature Week with Mark Holdsworth

Naturaliste Charters

Bremer Canyon Killer Whale Expedition, Augusta & Dunsborough Whale Watching with Pia Markovic

Pacific Whale Foundation Eco-Adventures Australia

Ultimate Hervey Bay Whale Watching, Private Charter with Dr Barry McGovern and research team

Premier Travel Tasmania

Tasmania Wildlife & Conservation with Wilderness Flight Safari with ornithologist Mark Holdsworth
Dedicated School & Education Programs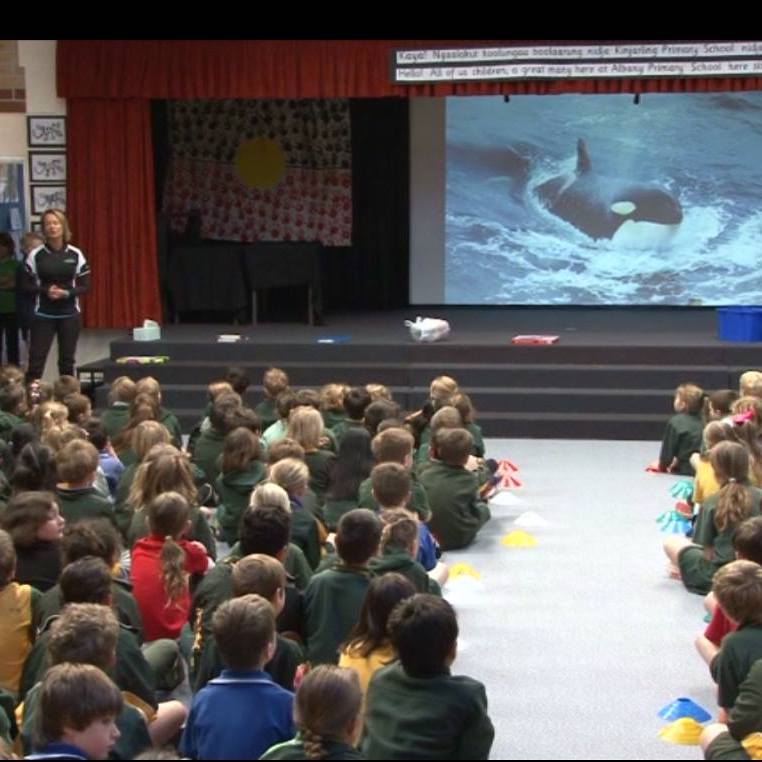 Pacific Whale Foundation Eco-Adventures Australia use profits from cruises to provide marine education for children, and support ocean conservation programs in Australia and around the world. In addition to supporting school visits or onboard excursions, the organisation has started Hervey Bay Virtual Whalewatch; a simulated whale watching experience complete with sights and sounds, expert narration, and interactive educational activities. With a duration of one hour, this program and can be utilised for whole-class instruction or individual student participation.
The marine biologists at Naturaliste Charters also conduct regular presentations for children from kindergarten through to the final year of schooling, as well as being involved in University and TAFE case-studies. Each year during the Bremer Bay Killer Whale expedition season, the organisation welcomes marine interns onboard, that have started out studying Marine Biology or a science degree. These students support onboard Marine Biologists with skills such as data collection and collation, photo-identification, public speaking, scientific writing and reporting.
Australian Coastal Safaris have developed experiences for mature aged students who have returned to study after leaving high-school early, to broaden their understanding of geology, environmental sustainability, regional produce and the flora and fauna of the Eyre Peninsula. Echidna Walkabout Nature Tours are also involved in hands-on action and environmental learning for students, with organised tree planting and noxious weed removal as part of the Koala Clancy Foundation projects.