SDG 14: Life Below Water - Marine Debris Tracking and Removal
SDG 14: Life Below Water - Marine Debris Tracking and Removal
Marine Debris Tracking & Removal
Marine debris is defined as any human-created waste that has entered the marine environment. Concerningly, most of the debris from land-based sources is composed of plastics and other materials that resist natural degradation. A recent study of marine life found that flexible plastics are responsible for the largest proportion of marine life deaths.
Tracking Marine Debris Across Hervey Bay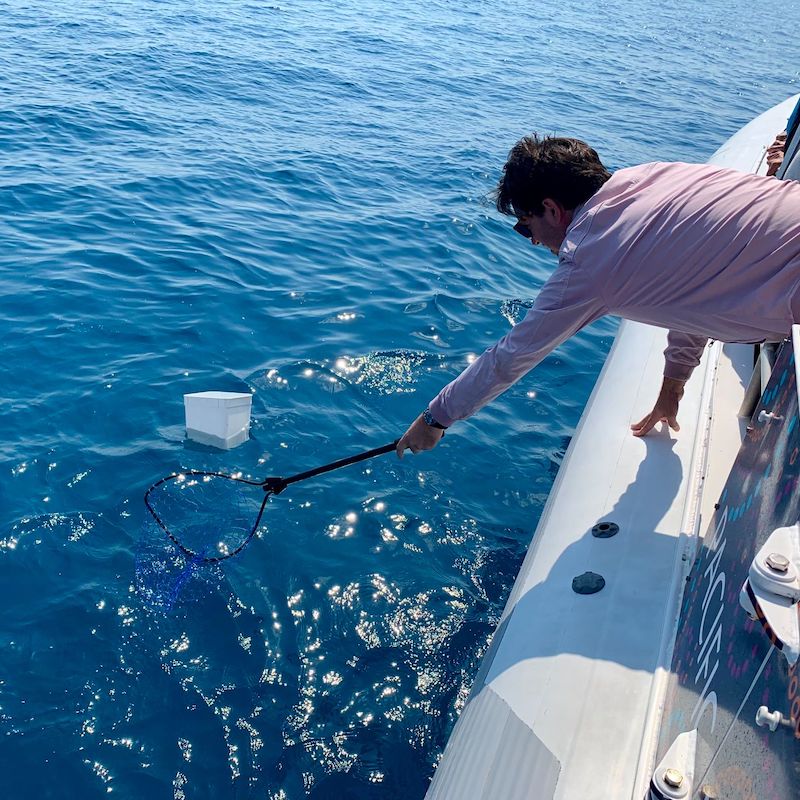 In the case of whales, once ingested, the plastics can accumulate in the stomach, with the mass eventually becoming so big that it obstructs the bowels and the whale starves to death. Sometimes, whales become entangled in fishing nets and rope and die that way.
Pacific Whale Foundation Eco-Adventures Australia, has been running coastal marine clean-ups for many years in Hervey Bay, but since 2019 the aim has been to also record the types and quantity of debris found on the Australian Marine Debris Initiative (AMDI) database run by Tangaroa Blue. This database was created to enable volunteers and organisations who were running beach clean-up events to also collect data on what they were finding with a consistent methodology so it could be collated into a standardised national database. This is used to better inform legislators about future changes needed in managing this worldwide problem.
Since 2004, more than 7 million pieces of marine debris have been recorded into the AMDI database, creating a comprehensive overview of what amounts and types of marine debris are impacting beaches around the country, along with suggestions on how to reduce it. Many Pacific Whale Foundation guests are inspired to further their efforts through their own beach and coastal clean-ups, and are encouraged to log any debris collected into the AMDI database through Tangaroa Blue.
Cleaning Up and Making Art from Christmas Island Debris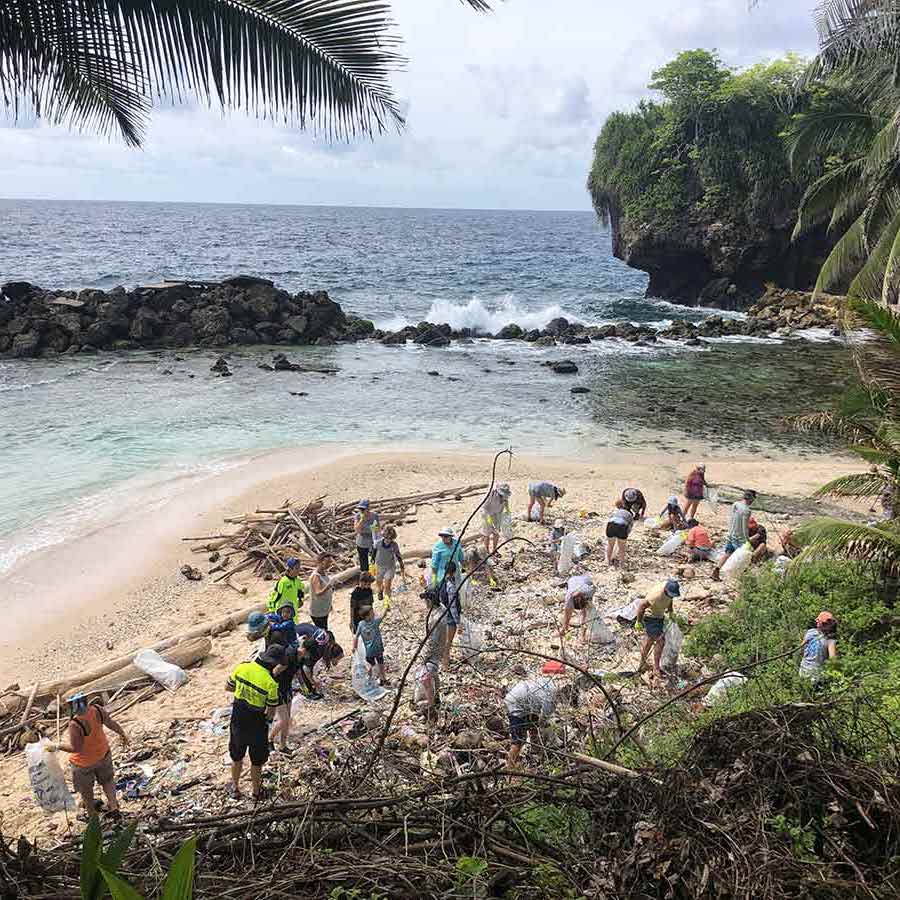 Due to surrounding currents and winds, the beaches of Christmas Island are often awash with masses of marine debris. Unfortunately, across locations such as Greta Beach, it is not uncommon to see turtle nesting habitat covered in marine debris. As part of Indian Ocean Experiences' Dolly Beach Tour, guests are encouraged to grab a bag and search for unusual treasures that the tide has bought in including flotsam carried by ocean currents from regions far away. Once educated on the type of marine debris deposited and harmful effect on marine species, almost 100% of guests are eager and keen to pick up bags of rubbish.
Indian Ocean Experiences' staff often volunteer during community organised beach clean-ups, with the organisation providing equipment such as bags, gloves and vehicles to ferry volunteers. The team works closely with Tangaroa Blue when on island for Christmas Island Marine Debris Week, promoting the event alongside the Christmas Island Tourism Association. It is estimated that Indian Ocean Experiences removes over one tonne of marine debris every year.
Guests are actively encouraged to purchase local art made by organisations such as Eco-Crab Industries, which turns plastic and debris into things such as building blocks, bowls, coasters, and other artisan items.
Removing Ghost Net from East Gippsland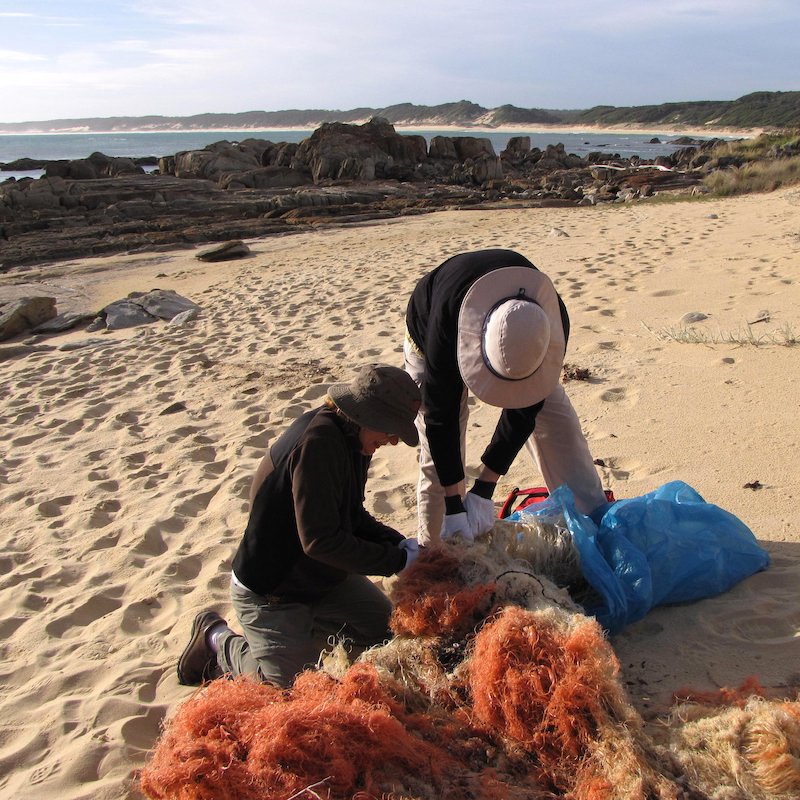 On Echidna Walkabout Nature Tours' East Gippsland Wildlife Journeys, guests are offered the opportunity to remove Ghost Net – discarded fishing net – that has washed up on the beach from Bass Strait or the Southern Ocean. The project commenced in 2013 when copious amounts of the orange netting could be found across the rocky headland of Cape Conran.
Without removal, the net poses an ongoing hazard to wildlife, as it can wash back and forth, putting species such as albatrosses, fur-seals or dolphins at risk. Over time, it also degrades into smaller pieces that fill the bellies of seabirds, causing them to starve.
With equipment provided such as bags, gardening gloves and heavy duty scissors, almost all guests have eagerly contributed to the clean-up project. Initially, the piles of Ghost Net were so large & heavy that it was impossible to move in one go and it was necessary to cut the net up into manageable pieces. Over recent years, given the large volume of garbage bags of netting removed, it has now become a challenge to find Ghost Net on Cape Conran, with alternative locations now being scouted.