SDG 15: Life on Land - Tree Planting and Noxious Weed Removal
SDG 15: Life on Land - Tree Planting and Noxious Weed Removal
Tree Planting & Noxious Weed Removal
The UN Decade on Ecosystem Restoration commenced in 2021, aiming to prevent, halt and reverse the degradation of ecosystems on every continent and in every ocean. Several Australian Wildlife Journeys' members directly participate in restoration programs to restore strategically located marginal farmlands with native plant species whilst removing noxious weeds.
Make a Home for Koala Clancy with Weed Removal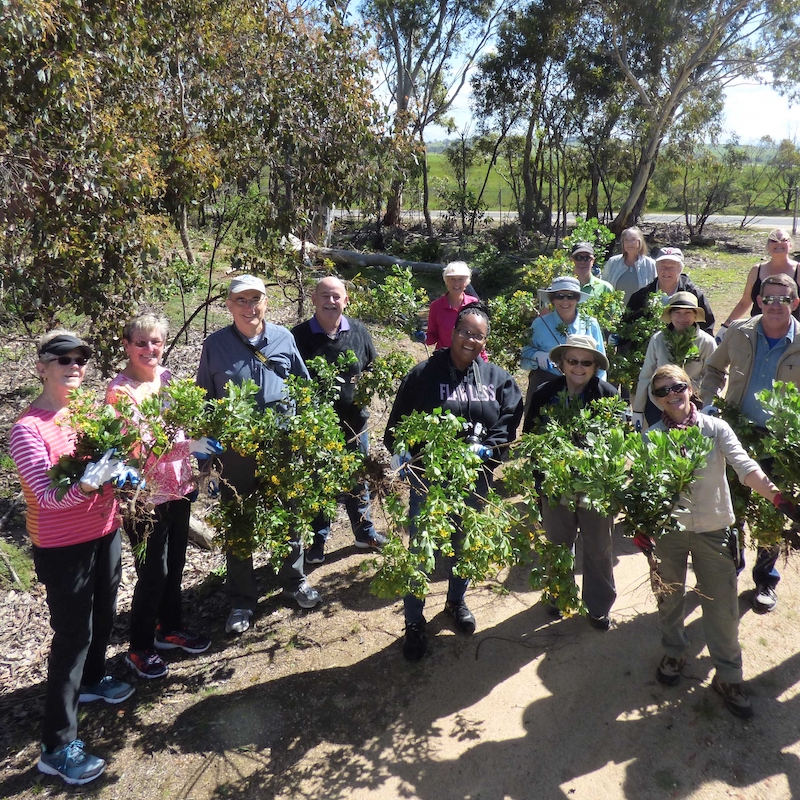 Echidna Walkabout's decade long Koala research that commenced in 2006, showed that wild Koalas rarely use eucalypts surrounded by thick infestations of Boneseed – an introduced weed native to South Africa. Consequently, in 2011 the Make a Home for Koala Clancy weed removal project began, which includes the opportunity for all guests on tours across the You Yangs and Great Ocean Road, to remove a weed to help a Koala. It is estimated that 50,000 weeds have been removed every year on these tours.
In 2014, Koala Conservation Days for locals were added to the project to educate and involve local people as volunteers in activities such as weed removal, tree planting and maintenance, with the costs of these days heavily subsidised by Echidna Walkabout Nature Tours and Koala Clancy Foundation donors. It is estimated that 400,000 – 650,000 boneseed weeds are removed each year on Koala Conservation Days for Locals with an estimated total of 1,500,000 weeds removed between locals and tourists.
Planting 300,000 Koala Trees by 2030 with Echidna Walkabout Nature Tours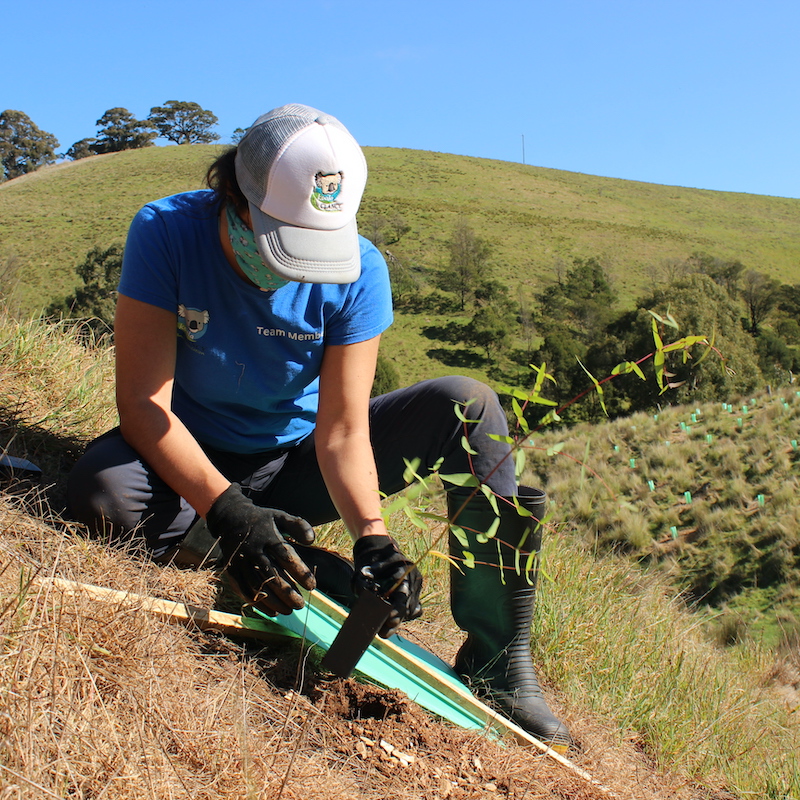 Research conducted by Echidna Walkabout Nature Tours and the Koala Clancy Foundation, estimate that there are around 100 Koalas still living in the You Yangs, down from an estimated 200-250 in 2007. Of concern is that a 46% decline over 10 years has been reported for the overall population.
With the increasing effects of climate change, the stony country of the You Yangs is drying out, with the tree canopy thinning out, leaving Koalas dehydrated and thirsty with the reduction in usable home ranges. Without action, this will result in Koalas dying and the population reducing significantly.
This has prompted the Koala Clancy Foundation to embark on a mission to plant 300,000 Koala trees by 2030 and save the Koalas of the You Yangs. Trees planted away from water, are struggling to survive with the drying climate, so the Koala Clancy Foundation approached farmers on the Western Plains to provide access to precious land, where trees can be planted along rivers, creeks, drainage lines and around dams, to increase the chances of obtaining high tree survival rates.
It is estimated that each Koala needs around 3,000 trees along more fertile regions, allowing the support of an additional 100 Koalas. In 2021, a total of 22,000 trees were planted with the aim to reach 30-35,000 in 2022. Travellers are able to book the Koala Recovery Experience as a two or three day package to assist in planting trees and recovery activities for this iconic species.
Revegetating Four Mile Headland on Maria Island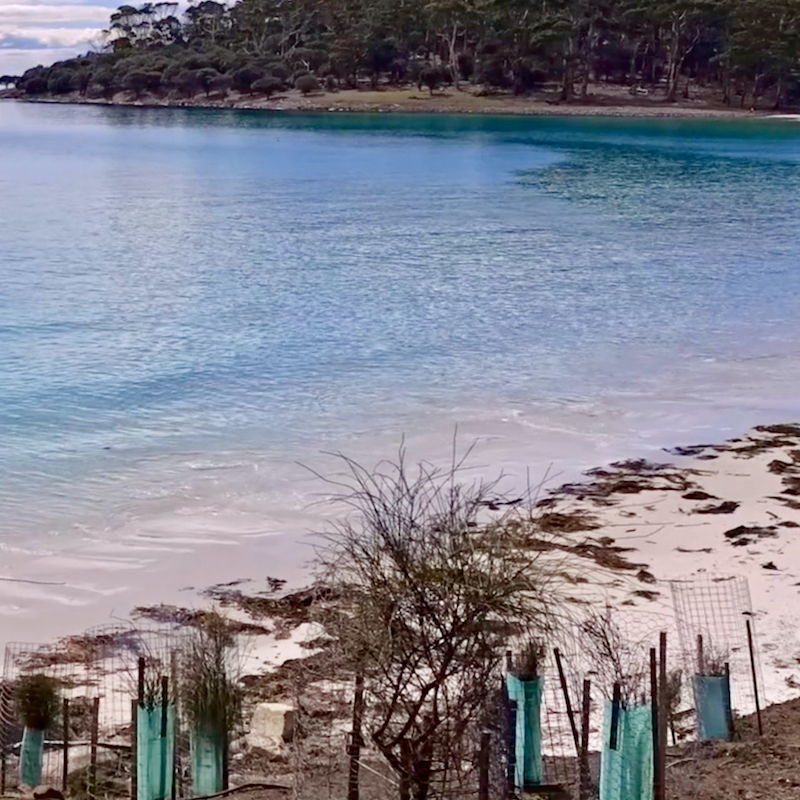 The team at The Maria Island Walk has partnered with Tasmania Parks and Wildlife Service to re- plant over 800 colonial-era heritage trees on Maria Island. The tree planting work began in in 2014 at Four Mile Headland, which is located about seven kilometres from Darlington and where The Maria Island Walk guests arrive on day two of the four-day walk.
With the volume of grazing marsupials on the island including Forester Kangaroos, Bennett's Wallabies and Tasmanian Pademelons, it can be challenging to establish endemic plants, especially after several dry years. This loss of green vegetation not only reduces the wildlife's food source, but it can also lead to soil loss and erosion.
The Coast Wattle and Sheoak have been selected for planting at the location in order to replicate the natural ecosystem. The trees help to hold the soil together and prevent environmental degradation and provide habitat for many of the native and Tasmanian endemic birds.
Assisting Christmas Island Mine-site to Forest Rehabilitation
In partnership with the Christmas Island National Park team, Indian Ocean Experiences offers guests the opportunity to participate in Christmas Island Citizen Science week, which includes tree planting and other rainforest rehabilitation activities. These actions form an important component of the broader Christmas Island Mine-site to Forest Rehabilitation (CIMFR) program, that aims to rehabilitate old phosphate minefields adjacent to original rainforest.
One of the priority species is the Abbott's Booby, with areas of restoration set around key nesting sites. To increase biodiversity around these sites, activities include propagating tree species native to the island, noxious plant control and plant fertilisation.