Dolerite Mountains
At almost 20 kilometres long and 13 kilometres at its widest point, Maria Island is split down the middle by a spectacular large dolerite mountain range. Mt Bishop & Clerk (620 metres) and the highest peak of Mt Maria (711 metres) provide stunning views towards Tasman Island, Freycinet, Schouten Island and the Ile Des Phoques. Towards the top of the peaks, small scree and big dolerite boulders are a remnant of the last glaciation period around 20,000 years ago, when upright columns fell due to freezing between the rock. Towards the summit there are patches of beautiful Oyster Bay pine, richea, and banksia.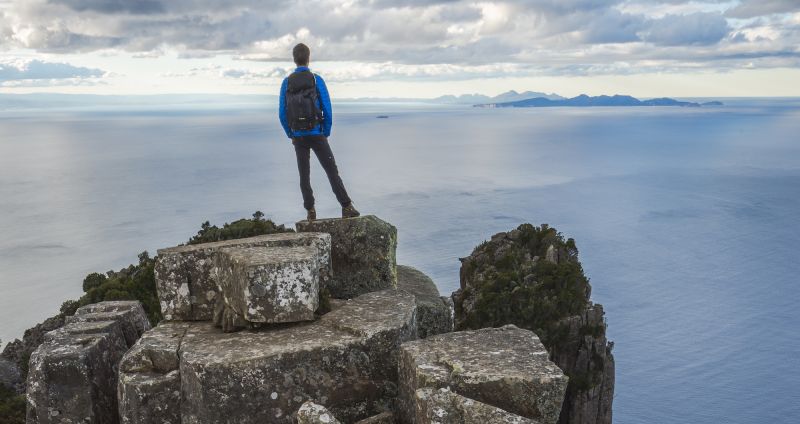 Woodlands and Eucalypt Forests
Maria Island is mostly covered in various forms of eucalypt forest, with most of the slopes of the island covered by dry eucalypts with higher ridges boasting areas of cloud rainforest. Open woodlands with large blue gums (Tasmania's floral emblem) is a favourite territory for Common Wombats and also the noisy Swift parrot that feeds on the flowering nectar. This critically endangered migratory species returns to the east coast of Tasmania in August to nest in the hollows of trees and breed. Cuckoos (Fan-tailed, Pallid, and Golden Bronze) and pardalotes (endemic Forty-spotted, Spotted, and Striated species), Green Rosellas, Yellow Wattlebirds also feed around beautiful manna or white gums, whilst endemic Black-headed and Strong-billed Honeyeaters prefer browntop stringybarks scattered around the island. Understorey plants, such as silver wattle, blackwood, sunshine wattle and native currant are also highlights.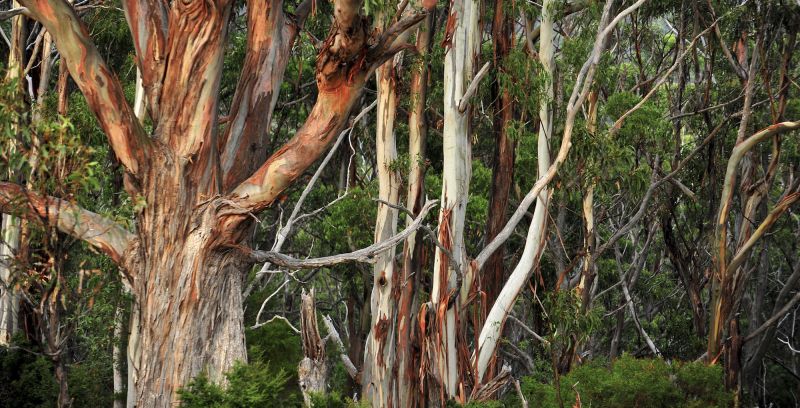 Fossil and Painted Cliffs & Beaches
The western side of Maria Island is characterised by low level coastline and pristine white sandy beaches. One of the most photographed areas of the island is the aptly named Painted Cliffs, which reveal stunning patterns formed through staining of the sandstone by iron oxide. On the northern side of Maria Island, massive limestone cliffs store a prolific volume of fossils from a 280 million year old sea bed including fully formed shell fossils. There are many peaceful beaches with crystal clear waters around the island, with coasts visited regularly by seals and whales. Common seabirds seen along the stretches of coast include Pied and Sooty Oystercatchers, Crested Terns, Pacific Gulls, Hooded Plovers and Short-tailed Shearwaters. One of the favourite panaromas is the view towards McRaes Isthmus, which is a spectacular 3 kilometre (1.9 mile) narrow sandy spit that joins the southern and northern parts of the island.


Grasslands
The island's grasslands are one of Australia's best locations for viewing wombats, kangaroos and wallabies in a natural setting. Forester Kangaroos, Bennett's Wallabies, Cape Barren Geese, Tasmanian Native Hens are commonly seen grazing in natural or historic clearings, whilst pairs of beautiful Flame Robins dart around. In addition to the wonderful wildlife the island, the region has a fascinating heritage, with the World Heritage Listed convict settlement of Darlington a favourite for visitors.