Gippsland Lakes
This beautiful network of lakes, marshes and lagoons is found southeast of Melbourne. The lakes are a result of alluvial deposition of sediment brought in by the rivers which flow into the lakes and also the action of sea currents in Bass Strait which have cut off the river deltas from the sea. The region is protected by the International Ramsar Convention on wetlands and is a key habitat for Black Swans, Chestnut Teals, Musk Ducks, as well as Fairy Terns. There are approximately 400 indigenous flora species and 300 native fauna species, with Swamp Wallabies, Eastern Grey Kangaroos, Echidnas, Wombats, Crimson and Eastern Rosellas, lorikeets, cormorants, pelicans, Eastern Yellow Robins, Grey Fantails and thornbills commonly seen in the area. Banksia and peppermint are typical of open woodland vegetation with forests largely of manna gum, while on lower-lying areas stands of swamp paperbark provide a dense canopy.

Mountain Forests
Geologists believe that the Australian Alps are the remnants of the edge of a rift valley. As sections of crust dropped down along faults, newly formed watercourses eroded steep valleys as they flowed towards the sea. This has resulted in a diversity of forest ecosystems that is in a class of its own. The Snowy River region is extremely diverse, suddenly changing from giant Alpine Ash forests to rugged dry rain shadow woodlands with native cypress pines and spectacular summer wildflower displays.
Further east, the Errinundra Plateau is dominated by wet old growth forests and Mountain Plum Pine, some specimens of which are over 400 years old. The Plateau's wet eucalypt forests are predominately Shining Gum and Cut-tail Gums, and include giant trees that are many hundreds of years old. These mighty forests are critical sanctuaries for countless species including Superb Lyrebirds, Yellow-bellied and Greater Gliders, King Parrots, Eastern Whipbird, Powerful Owls, Satin Bowerbirds, robins and many honeyeater species.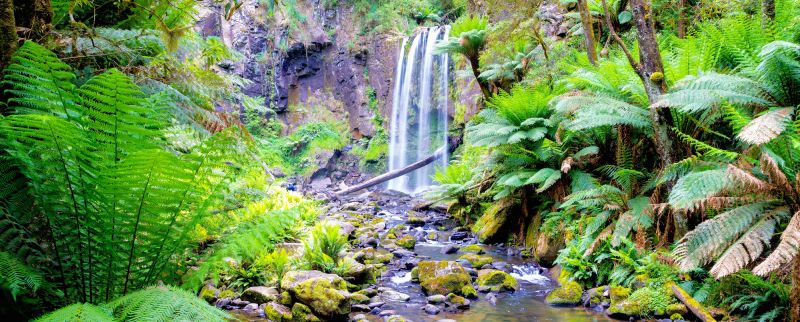 Rivers & Estuaries
The rivers of East Gippsland are short and turbulent streams beginning in waterfalls and ending in lazy, broad estuaries often blocked by sand from reaching the sea. Most are fringed with cool or warm temperate rainforests, resulting in incredibly diverse flora and fauna offerings. The major river basins of the Mitchell, Tambo and Nicholson drain into the Gippsland Lakes, whilst further east the Snowy River and several smaller stream catchments, including the Thurra, Wingan, Genoa, Bemm River and Cann River, enter the Tasman Sea. Vegetation along the spectacular rivers and gorges include papery-barked kanooka trees, lilly-pillys, ferns, mosses, vines, and lianas, whilst in the drier areas, wattle and eucalypt are very common. There are abundant opportunities to spot songbirds, parrots, bushbirds, waterbirds, wallabies, Lace Monitors and Gippsland Water Dragons.