Ultimate Hervey Bay Whale Watching
Starting at the Great Sandy Straits Marina, you will board the custom-built Ocean Defender; a low profile rigid inflatable boat with a capacity of 38 passengers that ensures you will benefit from unobstructed 360-degree views at eye level with the whales, with forward facing seats and plenty of shade.
The relatively small area of Platypus Bay, combined with the popularity of the region for whales to rest, play and interact, means it is often not long after leaving the marina in our speedy vessel, before we spot these majestic creatures.
Over 30% of the 21,000 Humpbacks Whales that migrate down Australia's eastern coast rest in the tranquil waters of Hervey Bay between July and October, with breeding pairs migrating ahead of mothers and calves, all part of the annual migration to and from the Southern Ocean.
Your crew, all trained in marine sciences, will interpret the amazing Humpback Whale behaviours including breaches, tail slaps, fluke-up dives, spy hopping and muggings; a common practice in Hervey Bay when the Humpback Whale approaches and stays close to the vessel for an extended period of time.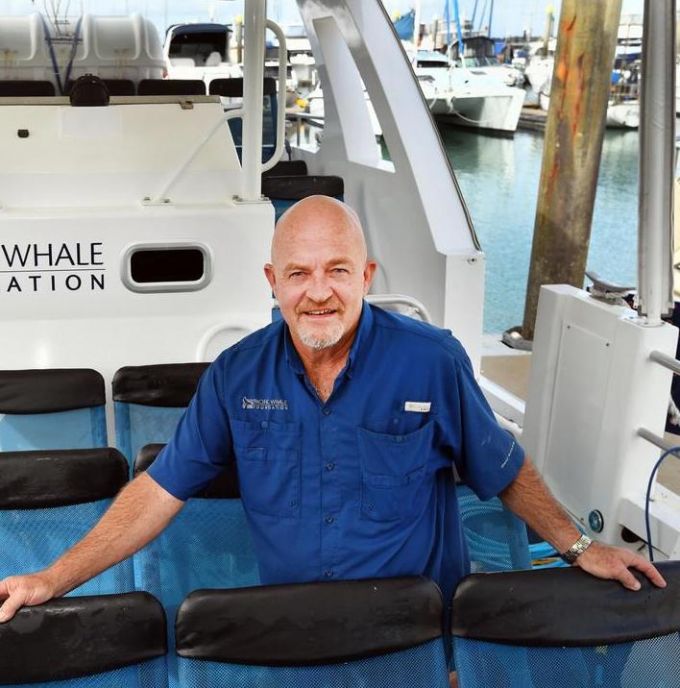 "Humpbacks are the most surface active of all the great whales, and there's really no better place to watch them than in Hervey Bay. Everyone wants to see the big breach, although no one really knows why Humpbacks do it. One theory is that they jump out of the water to dislodge all the sea lice and parasites that attach themselves to their bodies. Another theory is that they breach to see a headland, as they rely totally on sight and sound to get around."
Andrew Ellis - Director & Skipper
You will have the incredible opportunity to listen to ethereal whale songs, using the underwater hydrophones equipped with the vessel. There are also fun and educational activities led by our Marine Naturalists on board, to help inspire the next generation of environmental stewards. Free snacks and soft drinks are included as part of your ticket, plus a full colour commemorative Whalewatch Guide developed by the Research Department at Pacific Whale Foundation.