Dunsborough Whale Watching
This epic marine adventure departs at either 10am and 2pm from the Pro Fisherman's Boat Ramp in Dunsborough. Guests will board a luxurious and spacious vessel, purpose built to observe the incredible marine life iconic to the area. The passionate and expert crew will commence an exciting and informative presentation, delving into the biology and ecology of the great whales that are migrating through the area, as well as information about the other marine and birdlife that visitors are likely to encounter.
Cruising past pristine beaches (including Meelup Beach, Eagle Bay and Bunker Bay) and ancient cliffs, travellers will be on the look out for the migrating whales, with calves often in the protective care of their mothers, as they make their first journey from the north west of Western Australia to the Antarctic waters for the first time. Geographe Bay is an idyllic location for the whales to rest, as they summon up the energy to cross one of the world's most formidable oceans for the first time. Guests may have the opportunity to experience the calves in close proximity as their curiosity draws them to the vessel or shallows, with the sheer size of the mammals and their sounds simply awe inspiring.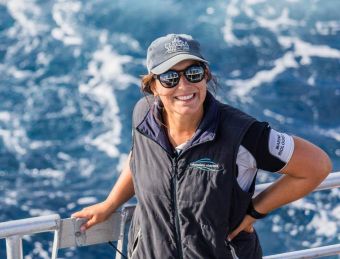 "Blue Whales are the largest animal on the planet – bigger than dinosaurs," she says. "And learning more and more about them every day is both thrilling and rewarding. We watch the Blues in the shallow, gentle waters of Geographe Bay, and usually they don't do very much because they're so incredibly large."
Pia Markovic - Marine Biologist
As the boat cruises near the coast, guest should be on the lookout for Long-nosed Fur Seals hauling out between fishing expeditions on the rocks along with several species of seabirds, that frequently drop from the sky to capture fish in dramatic fashion. Pods of Common and Bottle-nosed dolphins often escort us on the adventure, surfing the bow wave and treating guests a stunning aerial display.
Naturaliste Charters is the longest running whale watching company in the Southwest and all crew are experienced in finding wildlife and managing interactions with care borne of deep respect and long experience. These majestic marine mammals unconcerned with the vessel's presence due to the careful and respectful approach. Be enthralled as curiosity outweighs caution and a calf approaches our vessel, or nurses in the shallows as you watch.
On board, guests will also enjoy complimentary warm beverages and snacks, with soft drinks and bottled water available to purchase; however we encourage guests to bring their own reusable bottle so we can minimise single use plastic.