Full Day Expedition
One of the world's greatest full-day oceanic expeditions departs from the beautiful town of Bremer Bay, a two-hour drive from Albany or five-hour drive from Perth. From Albany, Naturaliste Charters offers transport to and from Bremer Bay with Busy Blue Bus.
After arriving at 7.45am at the Bremer Bay Boat Harbour, guests will board the Naturaliste Charter's long-range expedition vessel purpose-built for the Southern Ocean, ready for an 8:30am departure. From Bremer Bay, the landscape of scenic bays and cliffs along with sparkling turquoise waters will shortly give way to the deep blue expanses of the Southern Ocean. On departure, guests should keep an eye out for dolphins, Australian Sea-lions and numerous seabirds.
The expert crew will commence an exciting and informative multimedia presentation, delving into the Killer Whale's biology and ecology, as well as information about the other marine life the expedition is likely to encounter. After a journey of approximately 1.5 hours, the vessel will arrive to the Bremer Canyon area, one of the most amazing marine environments on earth, where guests will commence the search for the apex predator in the ocean, the Killer Whale.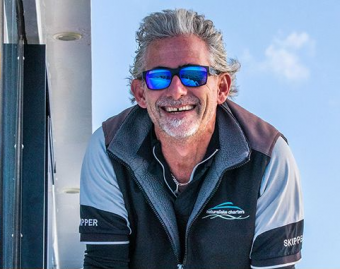 "We know around 150 of the whales we see each season personally. After seven years in the Bremer Canyon location I've learnt to drive with them… and they've learnt to swim with me. And if we can't see them, we look for birds. Whenever we see a swirl of birds looking down, waiting for scraps from a kill, we know there might be Killer Whales."
Andrew 'Captain Dundee' Johnstone - Skipper
It is common for pods of Killers Whales to approach and surround the vessel and expeditions often witness these magnificent creatures hunting. The spectacle of these predators chasing and devouring their prey is breath-taking, with seabirds such as albatross and shearwaters only too happy to pick up the scraps. On-board an expert marine biologist will share information about the pods social behaviours, along with other facts about the local marine ecology.
The day of unforgettable encounters is fully catered, with morning tea, lunch and afternoon tea provided, and unlimited hot and cold beverages are available. The vessel returns approximately 4.30pm, with guests sure to be left awed by our amazing blue planet.
Acoustic Monitoring
In addition to witnessing these incredible marine mammals, guests may also be able to hear them if conditions permit. Killer Whales live in family pods that have their own unique dialect or range of sounds. In other parts of the world, researchers use these vocalisations to identify family pods
Although the region has not been studied in details, researchers are already discovering information and movement patterns of pods in the region, providing a platform for future management and conservation.
Photo Identification
Naturaliste Charters also invites guests to participate in contributing photo ID shots of the animals encountered, to contribute to the growing database of individuals. As a citizen scientist, your ID shots also make a valuable contribution to this important research, conducted by Project Orca.
Individual Killer Whales have variations in the shape of the dorsal fin (with notable variations such as nicks and notches), the white eye patch's shape and size, and the grey marking on the back (also known as the saddle patch).