Day 1 (Mon): Renmark to Headings Cliff (12 kilometres walking)
After meeting your expert guides and fellow walkers in Renmark for a pre-walk briefing, guests will board a pontoon "cruiser" boat for a 14 kilometre (9 mile) cruise along the Murray River to the start of the walking route. This private cruise provides abundant opportunities to spot Australian Pelicans, Australasian Darters, Black Swans, Yellow-billed Spoonbills, Whistling Kites, Blue-winged Shoverlers, ducks and a colony of wild Koalas.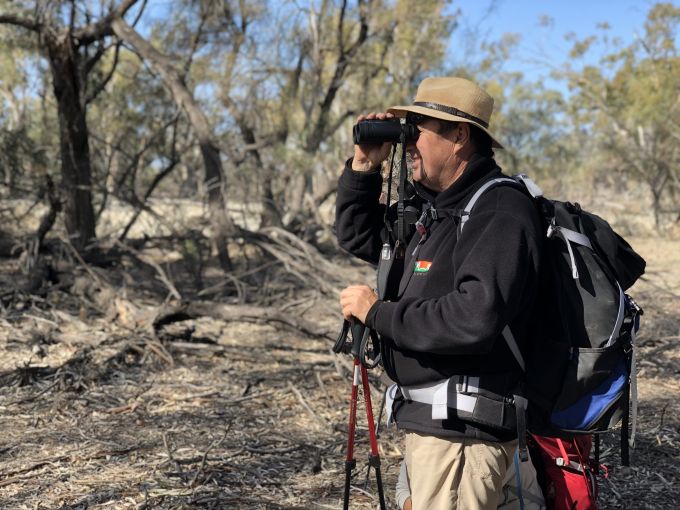 "I really enjoy observing Blue-winged Shovelers and Pink-eared Ducks. They are such beautiful wetland birds that use their filter feeding bills to catch small aquatic plants and animals that live in the ephemeral lakes when they fill."

Tony Sharley - Founder & Guide
Guides will share the story behind the World War II Japanese internment camp and cross creeks that feed the River Red Gum forests and box woodlands, before a gentle climb through the ochre cliffs, reveals a magnificent view of the vast Murray River floodplain that will surround you over the next three days. There may be opporutunities to spot Wedge-tailed Eagles, Red-capped Robins, Gilbert's Whistlers, Emus and Mulga, Red-rumped, Mallee Ringneck and Blue Bonnet Parrots.
After taking in these breathtaking vistas, walkers will take a short transfer across the river in the cruiser to arrive to the houseboat – before a cool foot dip in the river or a hot spa followed by a three course dinner paired with local wines.
Accommodation: Houseboat