Day 1: River Cruising, Cliff Walk & Nocturnal Walk
Guests will be met by the guide team in the town of Paringa, where after a brief introduction, the group will board a roomy pontoon cruiser to commence an exploration of the Murray River's fascinating natural, indigenous and pioneer history. There are abundant opportunities to spot Australian Pelicans, Australasian Darters, Black Swans, Yellow-billed Spoonbills and a colony of wild Koalas on this private cruise.
Upon being welcomed at the houseboat, the group will enjoy a specially curated lunch before departing on a guided cliff walk to witness the spectacular landscapes and contrasting colours of the riverine habitat. There may be opportunities to spot Wedge-tailed Eagles, Red-capped Robins, Gilbert's Whistlers, honeyeaters, Migratory Rainbow Bee-eaters, Emus and Mulga, Red-rumped, Mallee Ringneck and Blue Bonnet Parrots.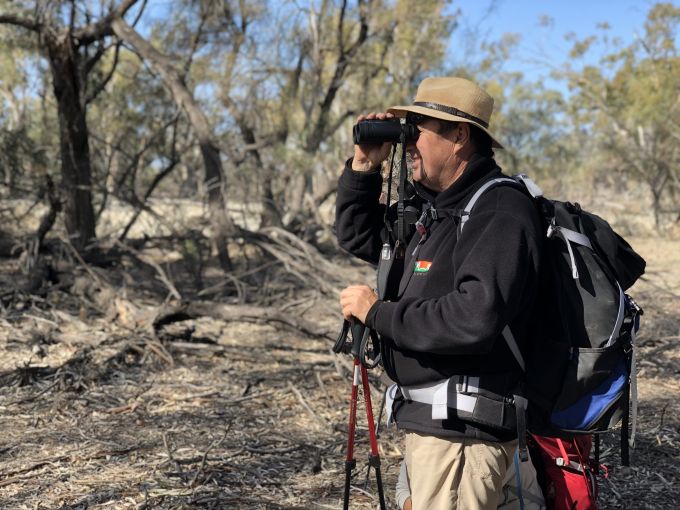 "The Rainbow Bee-eaters are fascinating and you can set your clock by them. They arrive from northern Australia in the first week of October and stay until the first week in April. They come here to breed and dig out tiny tunnels in the sandy cliffs found on either side of the river valley. They build their nests inside those tunnels."
Tony Sharley - Founder & Guide
Returning back to the houseboat, guests can enjoy a hot spa on the top deck overlooking the river at sunset, enjoying the harmonious calls of Whistling Kites soaring above. After a delicious two-course meal showcasing local produce paired with local wines, guides will take guests on a nocturnal walk, stargazing at constellations in the night sky, spotting Brush-tailed Possums for an important citizen science project and occasionally Tawny Frogmouths.
Accommodation: Houseboat