Day 2: Kakadu National Park & Arnhem Land
Departing the Northern region of Kakadu National Park, guests will cross the East Alligator River and enter Arnhem Land. The scenic drive to the Gunbalanya Aboriginal community provides some of the best driving views in the Top End with floodplains, billabongs & the Arnhem Land escarpment.
We shall then head up into Mikinj Valley where you shall be able to see some amazing Rock art & some incredible views. This is a very special place not only for the local people but for the Lord Safaris. Then after lunch onto Gunbalanya guests will visit the Injalak Arts and Craft Centre to meet and watch traditional local artists in action.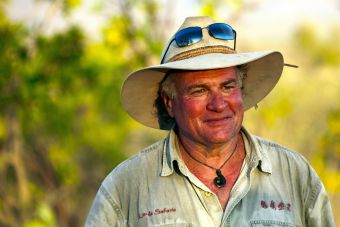 "I have known the Nayingguls family since the 1960s, and this strong connection to the land and its rich history is something that we are all able to share with safari guests. The majority of people who come here want to see a couple of good waterfalls and experience the landscape. I know where to take them, and since the area is exclusive to us, it's really only myself and the local Aboriginal people who know where to go. It's our secret sanctuary."
Sab Lord - Guide & Founder
Across the sandstone escarpments, visitors may spot the Brolga, Black Necked Stork (Jabirus), honeyeaters, Sandstone Thrush, Black Wallaroo, Chestnut-quilled Rock Pigeon, Wilkins' Rock Wallaby, Channel-billed Cuckoo, Pheasant Coucal and the Fire-tailed Skink. Davidson's Arnhemland Safaris lodge is the next stop, situated in the northwest corner of Arnhem Land, adjacent to Kakadu National Park and the Coburg Peninsula.
Overnight Accommodation: Davidson's Arnhemland Safaris Lodge