Day 4: Nitmiluk National Park
This day provides guests with the opportunity to take helicopter scenic flights within the spectacular Nitmiluk National Park. There are a variety of flights to choose from and all offer magnificent views from the air, with photo opportunities of Nitmiluk Gorge, the Arnhem Land escarpment and local wildlife.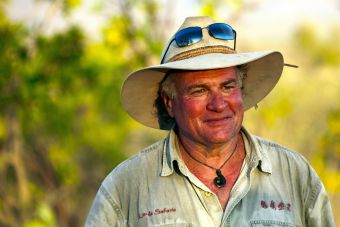 "My favourite place is Arnhem Land. Due to the permit requirement, it's not crowded and it just feels spiritually moving when I'm there sitting down on the ground with the Aboriginal people. Taking guests in there is an important component of the trip because they get an appreciation of how special and lucky we are to live in a country where we live in relative harmony compared to many other areas around the world. It's an interesting experience for many guests, as the local Aboriginal people don't really follow what's going on around the world. They are traditional people, so the most important thing to them is their land and their family."
Sab Lord - Guide & Founder
Lords Kakadu & Arnhemland Safaris is the only company permitted to land inside the National Park and offers a unique selection of breathtaking landing sites that are only accessible by helicopter including landing on remote rock escarpments, for a unique photo opportunity of the gorge below.
There are over 192 different species of birds that may be encountered in the region, including favourites such as the Red-collared Lorikeet, Red-winged Parrot, Northern Rosella and Blue-winged Kookaburra. Colonies of Little-red Flying Foxes, Freshwater Crocodiles, Agile Wallabies, Antilopine Wallaroos and Common Wallaroos can also be spotted around the gorges.
Later in the evening, guests will enjoy a very special dinner cruise, as the tranquil surroundings transport visitors into a spiritual world of the Jawoyn culture and history. Diners will discover the stories and ways of the Jawoyn people against the magnificent backdrop of Nitmiluk Gorge, that changes colour with the setting sun. Touring includes a three course candlelit dinner, featuring fresh, local Australian produce cooked on board, and a complimentary glass of sparkling wine.
Overnight Accommodation: Cicada Lodge