Day 1: Fogg Dam Reserve & Kakadu National Park
Guests will venture towards the World Heritage Listed Kakadu National Park via the magnificent Fogg Dam Reserve. These wetlands fringed by rainforest are a birdwatchers paradise, with year round water coverage assuring its position as an important feeding and roosting site for over 200 different bird species, water pythons and freshwater turtles. Forest Kingfishers, egrets, ibis, herons, Whistling Kites, Brown Falcons, Green Pygmy Geese, cormorants and monitor lizards are common sightings.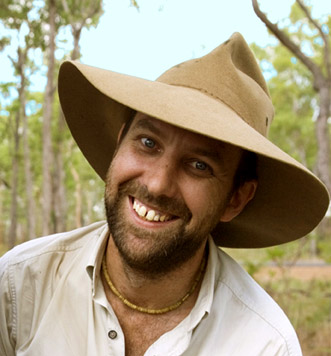 "Fogg Dam is a location where we often see birds en masse, and it's a very interesting setting because it's a dam wall, with lush wetlands on one side and dry wetlands and grasslands on the other. Ducks and ibises abound in huge numbers in the wetlands, while Magpie Geese, spoonbills, brolgas and jabirus are easily spotted on the dry side. Some guests have never seen so many birds in one place and on such a scale. We're talking thousands and thousands of birds at the one time."
Dean Hoath - Guide
From here, the group will explore the Mary River wetlands, enjoying a 45 minute Airboat Safari. Travelling through the seemingly endless floodplains of the Mary River Wetlands, guests will have the opportunity to spot countless crocodiles and birds, hovering above a breathtaking blanket of lilies and reeds.
A short detour off the highway is the beautiful Leaning Tree Lagoon; this Billabong is often covered in flowering Blue Lillies making, it a popular quick stop for photographers. Lunch is at the Bark Hut Inn; this Aussie Roadhouse was built during the buffalo era and is a reminder of earlier, wilder times.
The last stop for the day is at Cooinda to experience one of Kakadu's icons; a Yellow Water Cruise. This pristine environment supports a truly wonderful variety of plants, birds, crocodiles and Top End wildlife. The immense concentration of birds, especially in the dry season including Magpie Geese, Whistling Ducks, Great Egrets, Royal Spoonbills, Black-winged Stilts, Comb-crested Jacanas, Azure Kingfishers, Sacred Kingfishers, White Bellied Sea-Eagles, Brahminy Kites, Plumed Whistling Ducks, Nankeen Night-Heron and Little Bitterns make this one of the world's greatest birdwatching sites.
Overnight Accommodation: Lords Private Tented Camp