Full Day Tablelands & Crater Lakes
Departing early morning from Cairns, guests will travel up to the highlands of the Atherton Tablelands, to experience beautiful panoramic vistas across sections of this World Heritage Listed ecosystem. Upon arrival to the Danbulla State Forest, travellers will reach the famous Cathedral Fig Tree, a gigantic 500-year-old strangler tree measuring 50 metres high, with a trunk circumference of 39 metres.
Led by your expert guide, this is a prime area to spot the regions abundant songbirds, including the Red-backed Fairy-wren, Golden Bowerbird, Pale-yellow Robin, Grey-headed Robin, McLeays Honeyeater, Bridled Honeyeater, Blue-faced Honeyeater, Spectacled Monarch, Pied Monarch and Australia's very own bird of paradise, the Victoria's Riflebird.
Next stop is Lake Barrine, a crater lake formed when rising lava was pushed against underground water, resulting in dramatic explosions around 10,000 years ago. After a delicious morning tea, guests will be led by their guide to learn about the flora and fauna alongside the lakeside rainforest, with the opportunity to also enjoy a one hour lake cruise for more wildlife and photographic opportunities.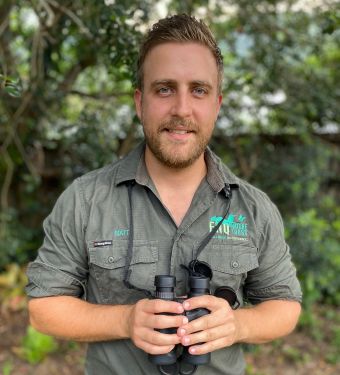 "We often see three species of Bowerbirds - the Tooth-billed Bowerbird, Great Bowerbird and Golden Bowerbird; up to seven of the 10 Kingfisher species that exist in Australia; and all sorts of other birds. It's incredible." Matt Cornish - Guide
This provides the opportunity to see Red-legged Pademelons, Musky Rat Kangaroos, Snapping Giant Eels, Eastern Water Dragons, Saw-shell Turtles and numerous birds. After a delicious seafood lunch, the group will search for one of Australia's most intriguing animals, the Platypus.
To finish off the day, guests will take in the spectacular panoramas of Milla Milla lookout, an incredibly picturesque 18-metre waterfall, with the option to take a swim or spend time at Lake Eacham or venture out to spot one of the area's most iconic species, the Lumholtz Tree-Kangaroo.
Guests will be returned to Cairns at approximately 5:30pm.