Day 2: Daintree River & Atherton Tablelands
We start early to maximise our wildlife viewing on the Daintree River. A short drive of 30 minutes will have us at our cruise location.
Private Daintree Cruise
Cruise the Daintree River with the dawn light, spotting wildlife on a quiet, clean solar electric boat with zero impact on the environment. On this private two hour cruise photograph wild Saltwater Crocodiles, Green Tree Pythons, Spectacled Flying-Fox and birds including Great-billed Heron, Pacific Baza, Papuan Frogmouth, Large-billed Gerygone, Olive-backed Sunbird and possibly Noisy Pitta, Black Bittern or Barred Cuckooshrike.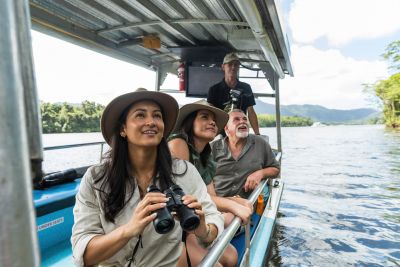 "We look for crocodiles, sure, but we also keep our eyes open for tree snakes, pythons, birds and flying foxes. A highlight is watching the fruit bats. On a hot day, they come and skim the water before heading out. Seeing thousands of flying mammals all around us is an amazing sight." David White - Wildlife Cruise Guide
Lunch is held at the Daintree Tea House. With 30 years in operation, they have mastered the art of perfection. Lunch has an exotic theme with the outside dining area secluded in the rainforest with beautiful views of tropical rainforest and continuous sounds of birds and nature. A fruit tasting presentation is often a part of their wonderful service.
Wildlife & Raptor Care Queensland (WARCQ)
Amber Dahlberg is the founder and coordinator of WARCQ, is a wildlife rescue and rehabilitation organisation based in Julatten in Far North Queensland. The WARCQ rescue and rehabilitate, mammals, marsupials, birds, owls and Australian raptors. At present, the WARCQ facilities comprise a purpose-built 15m care and flight aviary for raptors and birds of prey as well as a treatment clinic and other support services. Guests will meet Amber and gain insight into her lifelong passion of educating the public through caring for injured and rehabilitated wildlife.
Next stop is the incredible Curtain Fig Tree, one of the most incredible trees you will see in your life. This ancient fig tree is an epic rainforest survivor with a very complex ecosystem surrounding its lifecycle. The birdlife that can be heard in the surrounding forest is quite amazing here. The next stop is tje Chambers Wildlife Rainforest Lodge, hidden in 1200 acres of Lake Eacham's lush, tropical highland rainforest in the beautiful Waterfalls and Crater Lakes district of the Atherton Tablelands. There are several walks available at the Lodge where you might find birds such as the Eastern Whipbird, Wompoo Fruit Dove, Peaceful Dove and Australian Brush Turkeys.
Night spotting in the Northern Daintree
A wildlife tour in the Far North Queensland is not complete without a night walk. A large portion of the local wildlife has adopted a nocturnal lifestyle to avoid the heat of the day in the tropical climate. We often visit 2 sites to experience the overall diversity of nocturnal wildlife in the Wet Tropics.
Accommodation: Chambers Wildlife Lodge