Afternoon and Nocturnal Full Day
Guests will depart Cairns around midday and head north towards the world famous Daintree Rainforest; an area of ancient tropical rainforest spanning 120,000 hectares, estimated to be 180 million years old. This region was given World Heritage status in 1988 and has the highest diversity of rainforest mammals in Australia.
The mid-afternoon sun will deliver magical views of the Great Barrier Reef Drive, one of Australia's most scenic coastal highways. Upon arriving into the Daintree National Park, guests will enjoy a delicious afternoon tea, before boarding our Daintree River Wildlife Cruise upon a solar powered vessel, providing abundant opportunities to spot Saltwater Crocodiles and some of the regions 420 bird species without noise or fumes. The river is a haven for kingfishers, including the Azure, Forest, Little & Sacred species, cormorants, herons, ibis, spoonbills, flycatchers, Brahminy Kites, White-bellied Sea Eagles, Wompoo fruit doves, Sunbirds, Spotted-whistling Ducks and Rainbow Bee-eaters.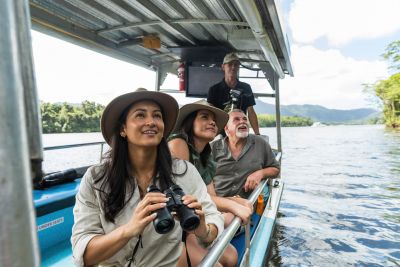 "We look for crocodiles, sure, but we also keep our eyes open for tree snakes, pythons, birds and flying foxes. A highlight is watching the fruit bats. On a hot day, they come and skim the water before heading out. Seeing thousands of flying mammals all around us is an amazing sight." David White - Wildlife Cruise Guide

After the amazing cruise, the group will continue to Cape Tribulation. This famous valley resembles a giant amphitheatre, with a semicircle of hills dominated by Mt Sorrow (850m) and Mt Hemmant (1000m). The south-eastern rain, trapped by this valley, results in a tropical climate with high temperatures, humidity and rainfall. This provides a unique vista, being one of the rare locations where rainforest extends right to the shoreline (littoral or beachside rainforest), separated by beautiful white sandy beaches. Led by an expert wildlife guide, travellers explore the natural assets of the coastline.
Dining in the evening Rainforest is an experience not to miss, with travellers enjoying regional produce at one of the region's finest restaurants. A wildlife tour in Far North Queensland is not complete without a night walk. Much of the local wildlife has adopted a nocturnal lifestyle to avoid the heat of the day in the tropical climate. Perhaps the most unique part of this experience is to observe nocturnal wildlife in the Wet Tropics.
Your guide will share information about some of the 3,000 plant species, including 65 percent of Australia's fern species, along with several crepuscular and nocturnal wildlife species, such as the Daintree River Ringtail Possum, Northern Long-nosed Bandicoot and Northern Bettong.
Guests will be returned to accommodation in Cairns at 10:30pm.