Whale Shark Swim: Full Day Tour
This unforgettable day starts early to board a beautifully equipped vessel, with the world's leading Whale Shark team. Using light aircraft to fly overhead during the day, the team will be directed to the locations of the whale sharks to provide the best opportunities to encounter these magnificent fish.
During the journey out, the fully qualified and experienced crew will answer your questions, help with your gear and brief you on everything you'll need to know to safely and successfully swim with these gentle giants. Throughout the day the on-board marine biologist will share interesting information about the Whale Sharks, how to identify the gender of the animal, typical behaviours, feeding patterns, how to take photos and more.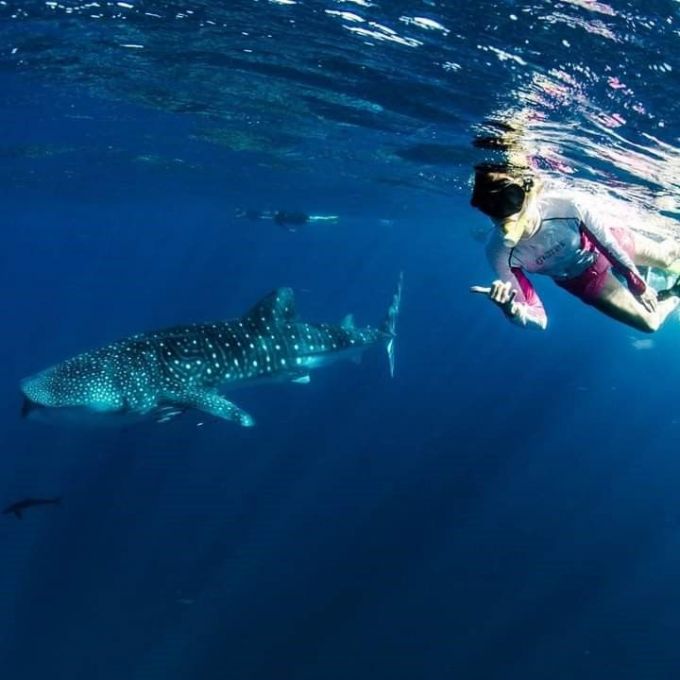 "I'm very fortunate to work in an area that has one of the highest interaction rates with Whale Sharks in the world. We find them, we swim with them, and we photograph them for identification purposes. Our videographers are required to get a shot of each Whale Shark we swim with, and we also encourage all of our guests to participate. Everyone can submit their photos to Wildbook for Whale Sharks and learn about the exact shark they swam with."
Heather Kay - Spotter & Snorkelling Guide
Instruction will also be given on how to best approach and swim with the Whale Sharks, so that the encounter with the world's largest fish is a truly memorable one. At least one guide will be in the water with guests at all times during the swim. In the very unlikely event that no whale shark is sighted, Exmouth Dive & Whalesharks Ningaloo will offer a free repeat tour on standby in the next three years.
The return journey back to shore will often provide opportunities to see Ningaloo's other megafauna, including Humpback Whales (June to November), Manta Rays, Dugongs, Australian Humpback, Bottlenose and Common Dolphins. Morning tea, lunch, afternoon tea and refreshments are served throughout the day, ending with a celebratory glass of champagne or light beer.