Exmouth Sunset Whale Watching Cruise:
Relax and enjoy the ride on one of our stable boats as we travel from Exmouth Marina to wherever the Humpback Whales are! Witness the whales in their natural habitat as our experienced crew teaches you all about these fantastic creatures.
A staggering 30,000 west coast Humpback Whales migrate through the region at this time of year before heading back to Antarctica before summer. A large majority of Humpbacks use the shallows of Ningaloo Reef to calve and the mothers protect their Neonates (newborns) with their pale colour and floppy dorsal fins in these waters away from predators, holding them up to the surface to breathe, for the first few days.
Mothers will typically move their calves into the Gulf area at Exmouth over these months, to fatten them up for the lengthy journey south. In just three months, the calf will double its size from four to eight metres in length.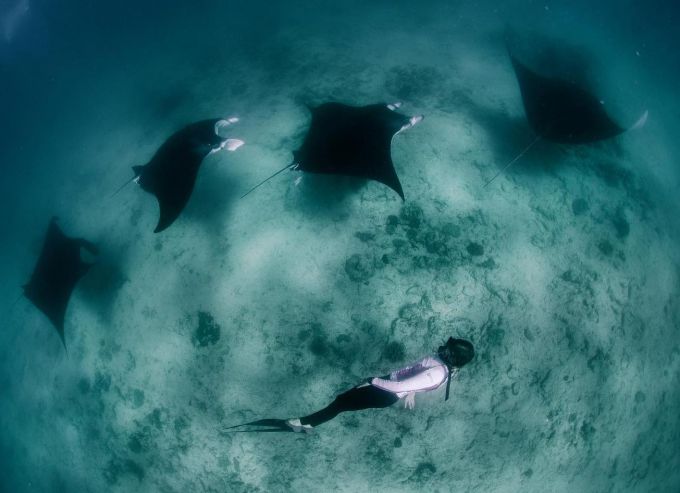 "The Ningaloo Coast side is famous for its reef, but the Exmouth Gulf side of the peninsula is magical. The diversity of marine animals found here is astounding, and it's a nursery for so many species of fish and marine invertebrates. The whales travel from Antarctica to the Kimberley where they have their babies, then they turn around and come back, so we often see mothers and calves in the gulf. Humpback Whales have massive pectoral fins and they're the most acrobatic whale in the ocean, so seeing an adult perform a trick and then watching a baby try and copy is unforgettable."
Lindsay Sorensen - Scubu Diving & Snorkelling Guide
The opportunity to view Humpback Whales tail slapping & frolicking, whilst sipping a glass of bubbles and watching the sunset over the magnificent Cape Range is one of the premier whale watching experiences anywhere in the world.