Lisa Preston first went to Christmas Island on holiday in 1996. Her visit happened to be right in the middle of one of the world's greatest natural spectacles: the red crab migration, in which millions of crabs march toward the ocean to spawn.
"It was just this crazy thing going on," she says. "The island got under my skin straight away."
A year later she was living there, and 25 years on, she is a well-established local. As owner and manager of Indian Ocean Experiences, Lisa gets to show guests around this remarkable tropical outpost - 1,500 kilometres (930 miles) off the West Australian coast - as well as the Cocos (Keeling) Islands, 980 kilometres west again.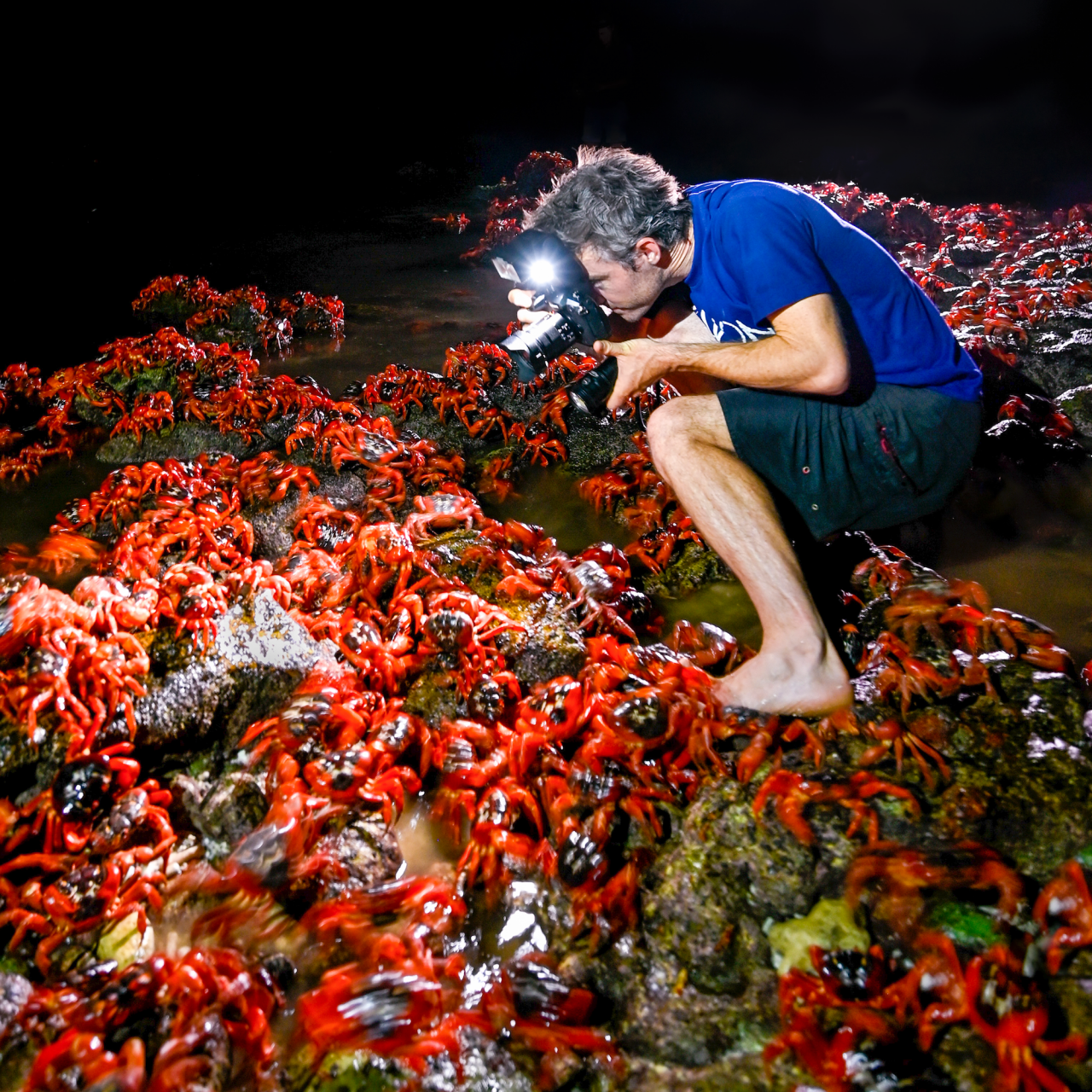 The sheer numbers are amazing. I'm standing there watching these robots zombieing across roads and over things and through things. Even after all these years the red crab migration still makes me go, 'Wow!'.
"Christmas Island is actually a coral cap on top of an old volcano," she says. "It's not your standard tropical island; it's a rugged, jungle experience."
Lisa loves the birds that seem to be evervwhere on the island, from the golden bosun, a seabird with a long yellow tail, to the imperial pigeons of the rainforest. And she says the island's mix of Chinese, Malay and other cultures adds to the sense that you're in a truly special place.
"We have about 20 Chinese temples on the island, and there's a mosque down at Flying Fish Cove. That multiculturalism adds another layer to the island experience. And it means we get to eat a lot of good food, too!"
---
Indian Ocean Experiences
When 70% of your island home is made up of Christmas Island National Park, with more endemic species than any other Australian protected area, it's easy to understand how Managing Director of Indian Ocean Experiences, Lisa Preston, became captivated by the beauty, the wildlife and the significance of the biodiversity of Australia's Indian Ocean islands, and felt the need to share these unique experiences and encourage their continuing protection. Proudly calling herself a local, Lisa Preston founded Indian Ocean Experiences in 2011, being one of the first operators to offer expertly guided land experiences across Christmas Island, centred around sustainable and conservation focussed touring.
Learn More