The first time Debbie Ferguson saw a whaleshark was on her honeymoon. She and husband Mark wanted something to remember their special occasion with, and the enormity of the gentle, spotted giant - a filter-feeder that bears a vacuum-like mouth filled with 300 tiny teeth - definitely fit the bill.
That was 2003, when Debbie was still working as a radiographer, spending her days indoors, often not glimpsing the outside world until after knock-off time. Mark, a keen scuba diver and boat skipper, had ignited her interest in aquatic pursuits and soon the pair were dreaming of quitting city life. The World Heritage-listed Ningaloo Coast in Western Australia, where whalesharks consistently travel each March to August, became their answer
Now, their office is the ocean, while diving, snorkelling and wildlife spotting is their nine-to-five. The pair bought Exmouth's first eco-tourism business in 2012. Ningaloo, the world's most accessible fringing reef, and the abundant activity within it continues to enthral them.

With warm seas and clear water, Ningaloo is just like paradise. Other places, you're promised so much and it's not there. Here, you're guaranteed so much every day. On one trip, we might have six turtles, a manta ray and a whaleshark; if we're lucky, a hammerhead shark might come past. It's just epic.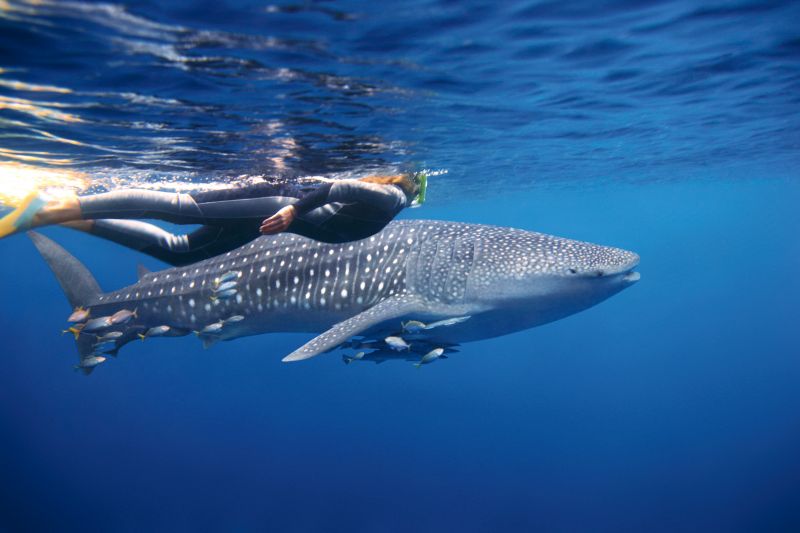 As well as snorkelling alongside long, docile whalesharks, from August onwards the couple host humpback whale swims and encounters, as well as playful interactions with graceful manta rays - the ballet dancers of the sea. Their scuba diving trips to sites that are 15 to 17 metres down reveal so many fish, the reef is all but covered. Swarms of bait fish twist and turn in unison, dodging predatory pelagic species while putting on an extraordinary visual show of nature in the wild. For Debbie, it's all in a day's work.
---
Exmouth Dive & Whalesharks Ningaloo
As the region's original eco-tourism operation, Exmouth Dive & Whalesharks Ningaloo is synonymous with experiencing the aquatic treasures of the World Heritage Listed Ningaloo Reef Marine Park. Debbie & Mark Ferguson have been involved taking ecotours around Western Australia for over 20 years, managing the operations of a number of boats in various locations.
Learn More