When Dean Hoath, one of the lead guides with Lords Kakadu & Arnhemland Safaris, takes guests to admire rock art at Injalak Hill, he is always accompanied by an Aboriginal guide. "In the township of Gumbalanya, which we visit before we begin our walk, we pop into Injalak Arts to see artists producing their art, whether that be fabric, weaving or painting, after which a guide joins the group to travel to the hill."


Aboriginal Rock Art with local guide. Image: Lords Kakadu & Arnhemland Safaris
The drive to the base of Injalak Hill only take 15 minutes, then the group begins the ascent to the rock art site. "We're away from the main tourist sites here," Dean explains. "Which makes it all the more special. Even the trail we use is barely visible."
When the group reaches the rock art site, Dean usually allocates some time for everyone to grasp the enormity of the art around. "We're looking at drawings that are thousands and thousands of years old, so that's older than any art hanging on the walls of galleries. Then physically the area where the rock art is found is big, too. The rock itself is about one kilometre long, and although we spend three to four hours walking around, we only see a small part of it," he says.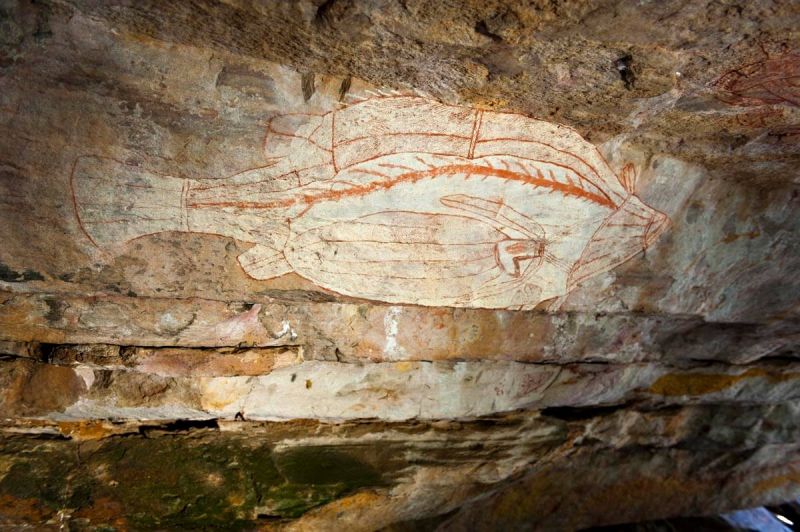 Aboriginal Rock Art. Image: Lords Kakadu & Arnhemland Safaris
Both Dean and the Aboriginal guide accompanying the group talk about the various depictions they see, their discussions spanning everything from cultural significance and dreamtime stories to the types of ochres used. "Interestingly, there's a good number of food [animals] painted on this site, and a huge number of spiritual story representations," Dean says. "One of the important paintings here is of Eingana, the creation mother. The Galiwin'ku people believe that the first spirit was a woman who came walking out of the ocean, with a whole lot of dilly bags (traditional bags made from reeds or grasses) full of food which she scattered over the landscape. There's a very famous painting here depicting that."
Watch - Lords Kakadu & Arnhemland Safaris: Our Story
To seal the deal, lunch is served in one of the most incredible settings. "Our lunch stop is my favourite lunch stop ever," Dean says. "I set the picnic up in a rock shelter and we all dine together admiring vistas over the wetlands and rock art above our heads. There's nowhere else like it."
---
Related Experience - Three Day Kakadu & Arnhemland
This epic tailored adventure across the World Heritage Listed Kakadu National Park and Arnhem Land winds across stunning floodplains and escarpments in search of the formidable Saltwater Crocodile, many of the region's 280 bird species, adorable marsupials and mammals and incredible flora.