Exmouth Dive & Whalesharks Ningaloo scuba diving and snorkelling guide, Chiara Bussini, believes that once you start taking photographs underwater it can easily turn into a life-long hobby. "I started with land-based photography over a decade ago, but now my main focus is taking photos underwater," she says. "I moved into the underwater realm when I began scuba diving. I haven't looked back."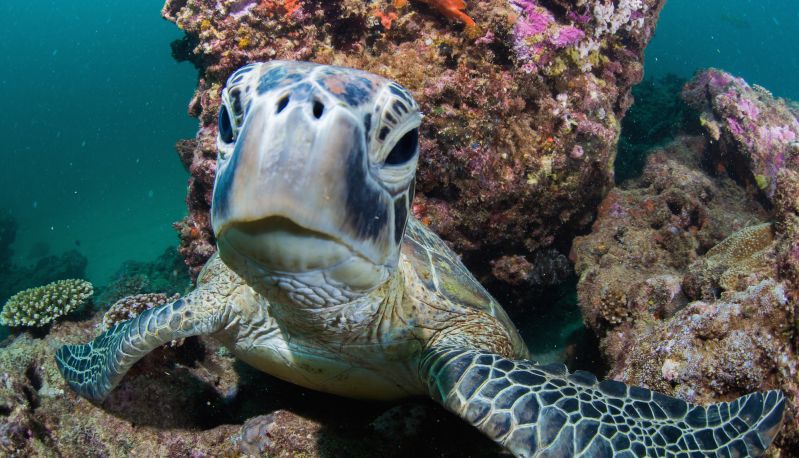 Green Turtle. Image: Exmouth Dive & Whalesharks Ningaloo
Chiara has been living in Ningaloo for close to five years, and although she spends most of her time in the water, she says that no day is the same and there is always something new and exciting to see and photograph.
"Ningaloo offers such a big variety of subject matter to shoot. There are colourful corals, schools of fish, marine megafauna, and then we have what we call the Big Three of Ningaloo: Whale Sharks, Manta Rays and Humpback Whales," she explains.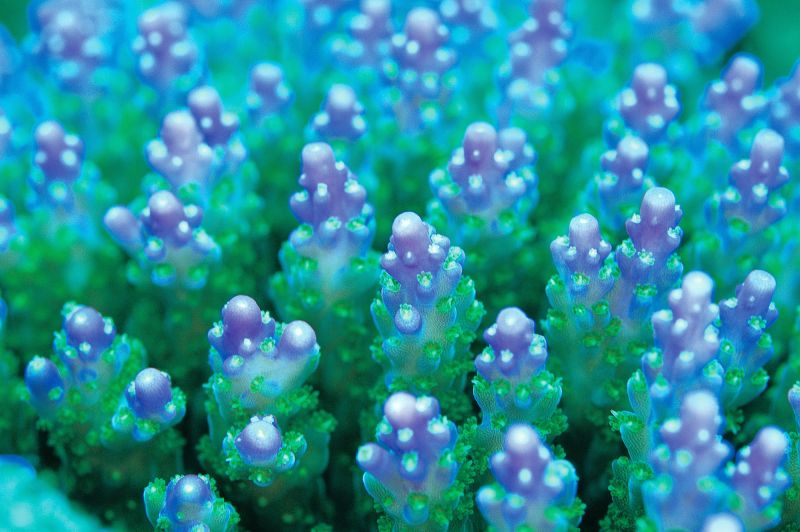 Colourful coral. Image: Exmouth Dive & Whalesharks Ningaloo
"Sometimes you might be focusing on the details of a coral growth and then a huge Manta Ray will glide past. You never know what you might come across." Regardless of skill level, Chiara explains that it's for this exact reason that the Ningaloo Reef is an underwater photographer's dream destination. "There's a big variety of marine life to see and it's easily accessible to both snorkellers and divers," she says.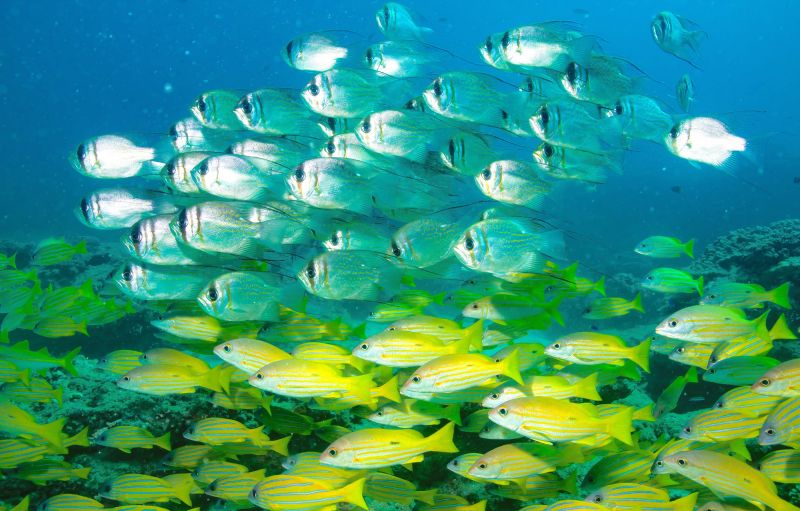 Fish on the reef. Image: Exmouth Dive & Whalesharks Ningaloo
For Exmouth Dive & Whalesharks Ningaloo guests, the Muiron Islands and Lighthouse Bay locations offer plenty of opportunities to hone their underwater photography skills, and Chiara says that both snorkelling and diving can reap great rewards. "You don't have to dive really deep for better or more interesting photos. In fact, because I enjoy using natural light, I tend to prefer sticking close to the surface," she says.
Watch - Exmouth Dive & Whalesharks Ningaloo: Our Story
The photography tour is fairly relaxed and can be customised to guests' abilities and requirements, and Chiara explains that the two main objectives of the day are for guests to become comfortable with their own equipment and to make the most of the astounding underwater ecosystem. "The day tour includes a mini photography course and then plenty of time in the water," Chiara says. "I go over the basics, such as perspective and angles first, and then working in the water is the best way to learn and improve."
---
Related Experience - Ningaloo Underwater Photography Course
Relive your favourite experiences by capturing the wonder and adventure of the aquatic realm with digital underwater photography. It's hard to imagine activities more versatile than underwater imaging.