"Maguk is magical," Bianca Di Nuzzo, the newest guide to join the respected team at Lords Kakadu & Arnhemland Safaris says. "It's a really interesting location to show guests, with a big and beautiful water hole positioned at the base of steep gorge walls, and top pools that always look so inviting."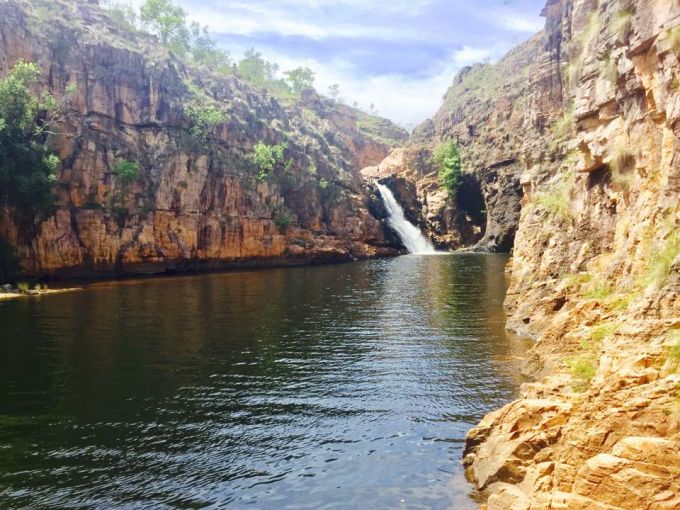 Maguk. Image: Lords Kakadu & Arnhemland Safaris
Bianca explains that although the walk to Majuk is short, it's one of her favourite hikes to introduce guests to. "The walk to the main plunge pool follows mainly low-lying pathways and weaves its way alongside streams and small rivers, so you are essentially meandering through a monsoonal rainforest," she says.
"When you're moving in nature you hear the birdlife, insects and lizards all going about their business and you can't help but feel grounded and close to the earth."
Watch - Lords Kakadu & Arnhemland Safaris: Our Story
Some walks are more challenging than others, so Bianca always ensures that guests know what's ahead. "To get to Jim Jim Falls, for example, the walk through the subtropical rainforest is more clambering over and around rocks than hiking," she says. "But although it can be challenging, we walk at a pace that suits the group. Twin Falls gorge is nearby, too, and to get here we first travel 12 kilometres by 4WD, then take a boat cruise, before hiking to the base of the falls.
Guests usually enjoy taking a moment to appreciate all the scenery on the white sandy beach at the base of the falls. The contrasting colours of the plant life against the sand and rocks are striking; the escarpment rising up 150 metres is breathtaking; not to mention the cascading waterfall itself."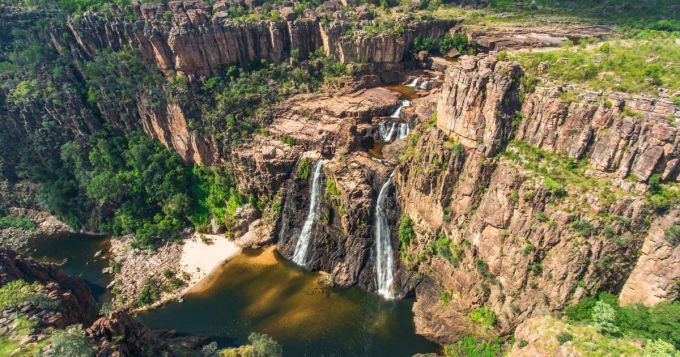 Twin Falls. Image: Lords Kakadu & Arnhemland Safaris
Koolpin Gorge, also located in Kakadu National Park (and touted by some as one of the park's best-kept secrets) is somewhere that active types can undertake more bouldering and hiking. "The Aboriginal name of Koolpin Gorge is Jarrangbarnmi (jarrang meaning flood or big water flow, and barn meaning rift or gap) in the Jawoyn language," Bianca explains.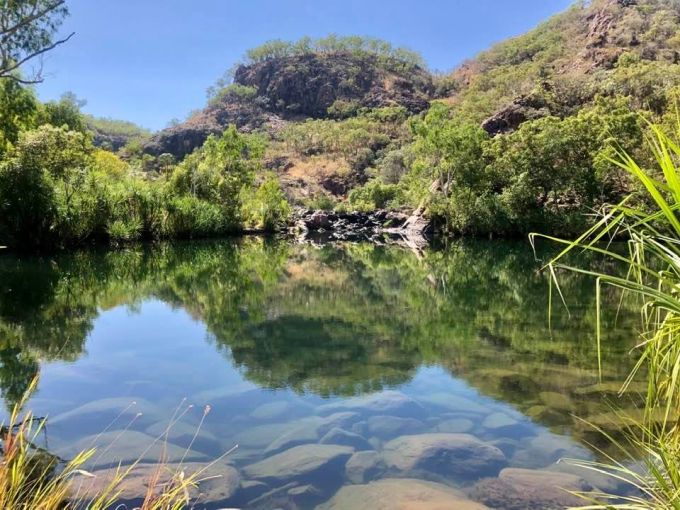 Koolpin Gorge. Image: Lords Kakadu & Arnhemland Safaris
"Jarrangbarnmi is part of the Jawoyn creation story, so the area is spiritually very special. The Jawoyn people have restrictions on visitor numbers, so the Lords Kakadu & Arnhemland Safaris team and our guests are very lucky to have access to such an amazing place."
---
Ultimate Luxury Safari Adventure
Covering black soil floodplains, paper bark swamps, savannah woodlands, monsoonal rainforests, river mangroves and dramatic escarpments, this is the ultimate Top End private adventure for wildlife enthusiasts!