For Mark Ferguson, co-founder and skipper of Exmouth Dive & Whalesharks Ningaloo, every day out in the water is a good day. "I learnt to dive when I was 24 and am in the water at every opportunity. I just love the sea and showing guests the underwater world," Mark says.
Exmouth Dive & Whalesharks Ningaloo offers a huge array of tours to suit just about anyone, but Mark particularly enjoys showcasing the Muiron Islands to guests. "It's part of Ningaloo, but it's at the very end of the Cape, and takes us about an hour and 20 minutes on the boat to reach the snorkel and dive site," he says. "Most people really enjoy that time on the boat. We might see Humpback Whales from June to October, it's highly likely that we'll spot dolphins, and seabirds are often out in full force feeding on shoals of bait fish.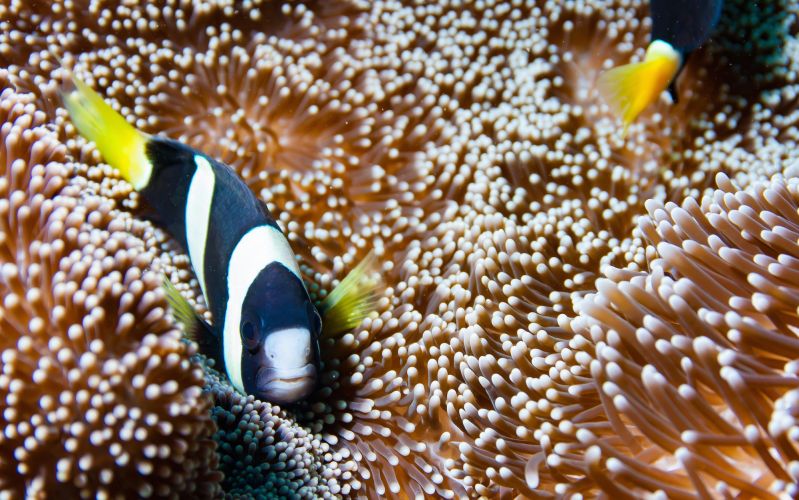 One of the 500+ fish species on the Ningaloo Reef. Image: Exmouth Dive & Whalesharks Ningaloo
The Muiron Islands site is ideal for families, couples and groups of people with different skillsets, because the reef structure is as shallow as five metres in some parts and as deep as 18 metres in others. "It's a really accessible site for both snorkellers and divers. We can have all skill levels out in the water and everyone gets a great view of what's hiding underneath," Mark explains.
Watch - Exmouth Dive & Whalesharks Ningaloo: Our Story
As for what is hiding underneath… well, Mark speculates that you could spend days exploring and there would still be more to see. He explains: "You have two unique locations at Muiron Islands. The west side is open to the ocean, and here we are privy to an interesting mixture of both hard and soft corals. The soft coral, in particular, is very beautiful as it's a mix of bright orange, pink and blue hues. The east side is a little shallower, and although it's mostly hard coral and sometimes there is less visibility here, we quite often see Green, Loggerhead and Hawksbill Turtles, which guests really enjoy.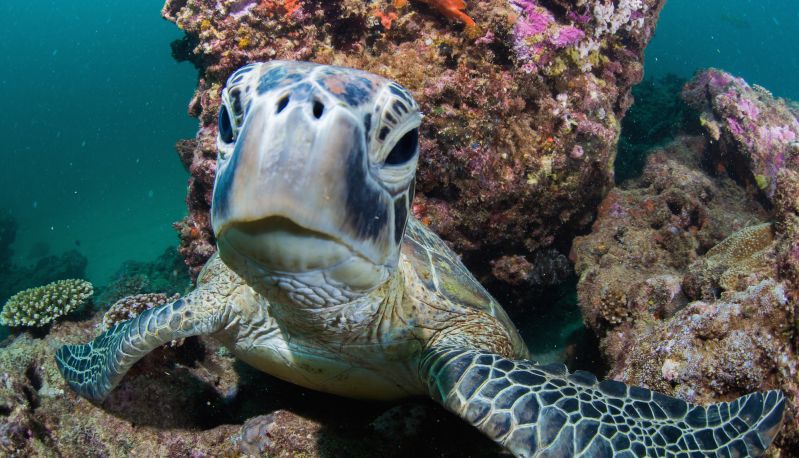 Green Turtle. Image: Exmouth Dive & Whalesharks Ningaloo
All the snorkel sites offer guests the opportunity to see hundreds of fish scooting around, and because of the many ledges, caves and nooks, the maze-like structure offers snorkellers and divers the opportunity to kick back and simply drift along with the currents while watching the underwater world go by.
---
Outer Reef or Islands Scuba Dive & Snorkel
Discover the wonders of the Muiron Islands and Ningaloo Marine Park, regarded as one of the most beautiful underwater wilderness areas in Australia.