In the Far North Queensland Wet Tropics, rain is king. "The start of the Wet Season triggers a myriad of life cycle changes – chrysalis to butterflies, tadpoles to frogs, buds to flowers," says FNQ Nature Tours photography guide Kelvin Marshall.
Kelvin shares his love of both photography and the environment through workshops with FNQ Nature Tours guests, covering a breadth of topics depending on the customers' interests on the day. "I specialise in all types of images pertaining to flora and fauna," he explains. "And because the forest floor is dark, I concentrate on low-light photography, which can present some challenges."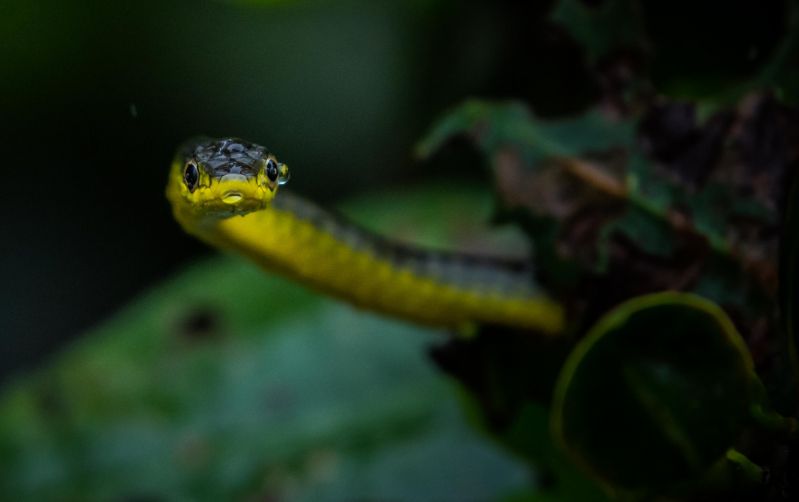 Australian Tree Snake. Image: FNQ Nature Tours
Those challenges translate into workshop components, with Kelvin delving into how best to use camera features such as shutter speeds, aperture control and ISO settings on the forest floor. "It's critical that people on tour have a tripod and a cable release," he says. "Generally, those booked with us have a basic understanding of their camera equipment, and are looking to take it the next level."
Watch - FNQ Nature Tours: Our Story
Technicalities aside, Kelvin explains that working in the Wet Tropics is also about understanding and reading the environment. He chooses to utilise natural lighting in his work and consequently uses long exposures – sometimes up to 30 seconds in duration – to emphasise both the subject and the surrounds.
Angles, composition and thinking outside the square also all fall into his key principles of nature photography. "I'm very cautious of my depth of field with subjects," he explains. "I want people to see both the species photographed as well as the habitat. By using a good depth of field, we create pictures that tell a story."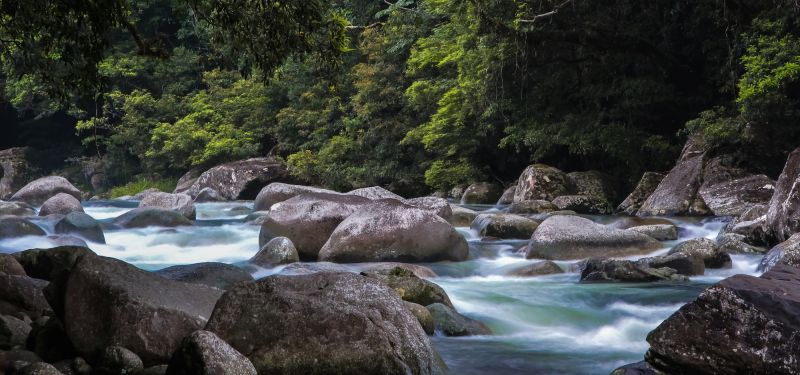 A long exposure shot of the rapids at Mossman Gorge. Image: FNQ Nature Tours
And what stories there are to tell! To be among a staggering diversity of wildlife and to feel connected to the land – the local Kuku Yalanji custodian land – Kelvin will usually take guests to Mossman Gorge, Daintree National Park. "To immerse people in the story of the oldest surviving continually evolving rainforest in the world is something else – and to photograph moments in those stories – it's an experience that is unparalleled," he says.
---
Wet Tropics Photography Workshop
This photography workshop is led by award-winning wildlife photographer, Kelvin Marshall.
The Wet Tropics World Heritage area offers a sublime mixture of landscapes, including waterfalls, mountain ranges, idyllic streams, deep gorges and dense rainforest.