The combination of the mobility of animals, ability to survive and in some cases thrive due to fires, means Australia continues to deliver compelling and immersive wildlife experiences post bushfire.
One of the remarkable aspects of many eucalypt habitats across Australia affected by fire, are their ability to germinate and regenerate quickly with the support of steady rain. Similarly, our wildlife tour operators across the country desperately need the support of a steady stream of travellers in the coming weeks and months to support existing and new conservation & rehabilitation efforts, along with maintaining the wellbeing of regional communities.
This mission of rehabilitation is as important in the vast regions of the country that remain unaffected by the bushfires, as it is for those that have been impacted. We emphasise that not all of Australia has been burnt or is in danger of fire, in fact, the large majority of our tours are currently unaffected.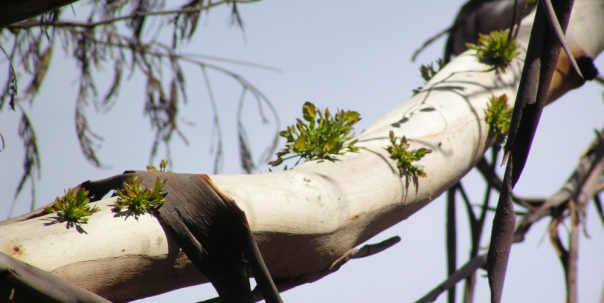 First epicormic leaves on a Manna Gum, 33 days after the fire - Image Credit: Echidna Walkabout Nature Tours
At this time, our thoughts go out to the regional communities, our heroic firefighters and wildlife rescue volunteers that have been directly impacted by these unprecedented fires. We would like to thank those from around the globe who have expressed their support towards our members, precious wildlife and beloved country in recent weeks.
Australia's ecosystems and native species were already under serious pressure from factors such as extreme weather, water scarcity, feral predation, noxious weeds, pollution, land clearing and climate change, which has resulted in unprecedented rates of biodiversity loss.
This season's bushfires are certainly a significant hit, but if there is any positive to come out of this tragedy, it has been the inevitable wake-up call across the globe, that business as usual will have dire consequences for all living things on planet earth.
It is this drive for change that provides Australian Wildlife Journeys with a strong sense of optimism, by linking the growing community of travellers that want to make a difference, with wildlife guides that are resolute in the preservation and regeneration of ecosystems for future generations.
We look forward to welcoming you soon, to assist us to achieve just that.
---
Can I assist wildlife in the coming weeks and months through Australian Wildlife Journeys?
Yes! We have published a series of opportunities for international travellers that would like to combine wildlife touring with group conservation action days across multiple regions across Australia from July onwards - primarily, but not limited to land rehabilitation.
Please note these are not categorised as pure 'voluntourism trips', but are designed to showcase our tourism operators and associated community vendors with conservation projects that are timed correctly, to create meaningful impact on local ecosystems (including but not limited to regions affected by this round of bushfires).
This way travellers can experience Australia's amazing wildlife encounters, endearing characters, whilst participating in meaningful regenerative projects for a few days as part of their overall Australian vacation or holiday.
If this sounds like you, please fill out your contact details in the form by clicking the button below and we will connect with you in due course with itinerary inclusions and price details.
See the seedlings that will be used for tree planting sessions in critical Koala habitat later this year, Video Credit: Echidna Walkabout Nature Tours
---
Do affected regions and Australian Wildlife Journeys' members want tourists and will my visit make a difference?
Absolutely. Our wildlife operators across Australia are eager to share the amazing wildlife encounters on offer. Many regions rich in wildlife are part of rural communities that are often heavily dependent on wildlife and nature travellers. Your trip is vital to the process of rebuilding these communities and helping Australia's wildlife and people in the long term.
Only a few operators from Australian Wildlife Journeys have been impacted (Exceptional Kangaroo Island, Echidna Walkabout Nature Tours, Boutique Wildlife Tours).
Adjustments have already been made to these impacted tours, to ensure that amazing wildlife viewing is made possible whilst touring pockets of regions that are out of the direct fire zone. Guides across the collection continually refine or adjust itineraries to ensure a safe experience with optimal opportunities to encounter the wildlife we treasure so much.
All members of Australian Wildlife Journeys are family-owned businesses, that support local producers as much as possible. It's an easy way to ensure that your travel provides the maximum support possible and keeps the money in region where it is needed most.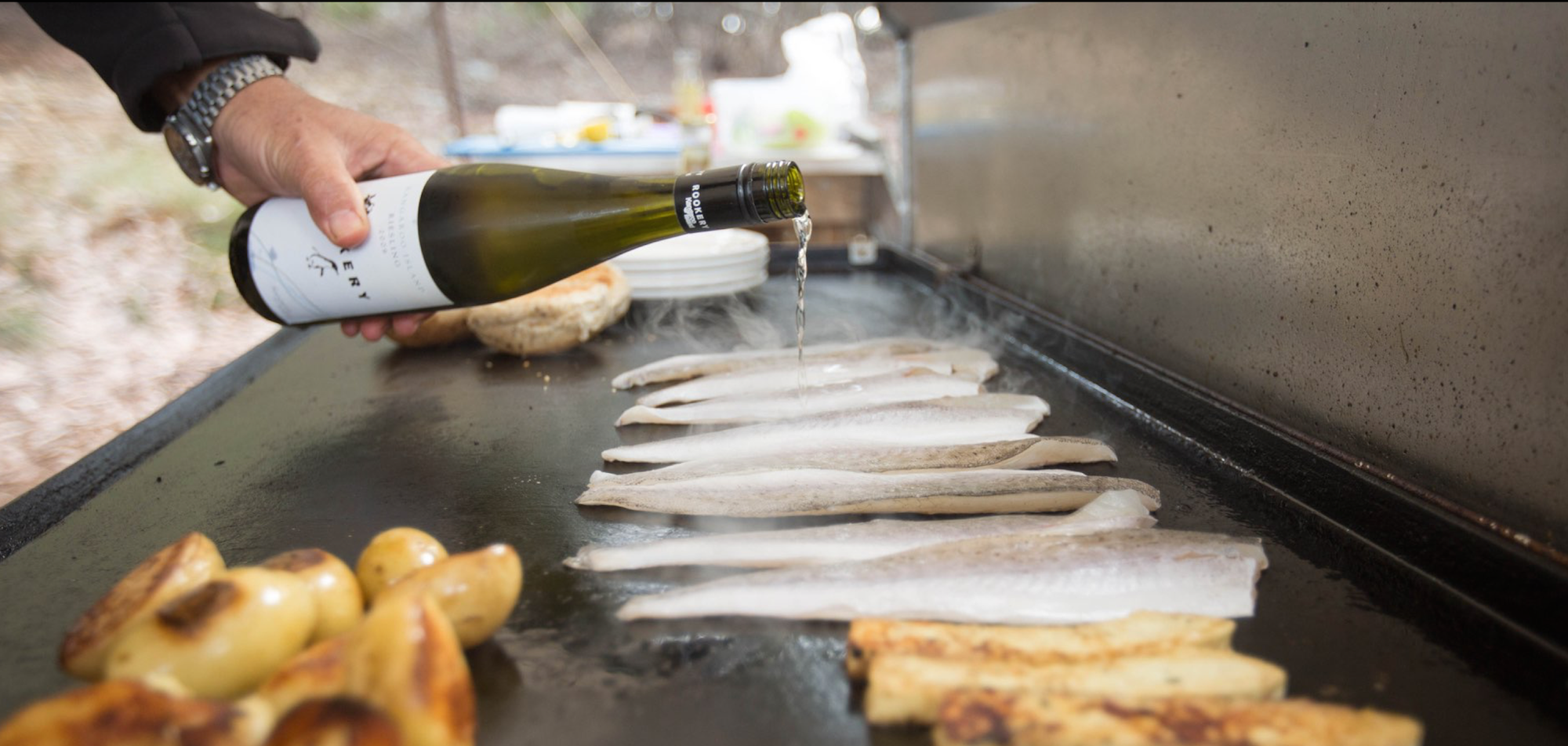 Supporting not just our wildlife tour operators, but local providores is a key part of the recovery of regions like Kangaroo Island
Managing Director of Echidna Walkabout Nature Tours, Janine Duffy, also sums up the importance of tourism with respect to future conservation efforts, including our most iconic marsupial, the Koala.
"The Australian tourism industry is also one of the big-earning industries that stands up for koalas. It generates as much income as mining, employs and nearly 1 million Australians (three times what mining employs). Travelers, and the travel industry, stand up for koalas when no one else does."

---
How can I donate to immediate needs of rescuing, caring and providing habitat for injured wildlife through Wildlife Rescue Organisations?
There are several wildlife rescue organisations, both large scale and grassroots, that are working in the fire zones to rescue animals, assisting with the ongoing care of injured wildlife and providing new habitat for relocation. At this moment, financial donations are preferred. This is by no means an exhaustive list, but key organisations include:
New South Wales
Victoria
South Australia
Queensland
National Organisations
---
How can I donate to the rural fire services and aid organisations?
Fire Services
Disaster and Recovery Funds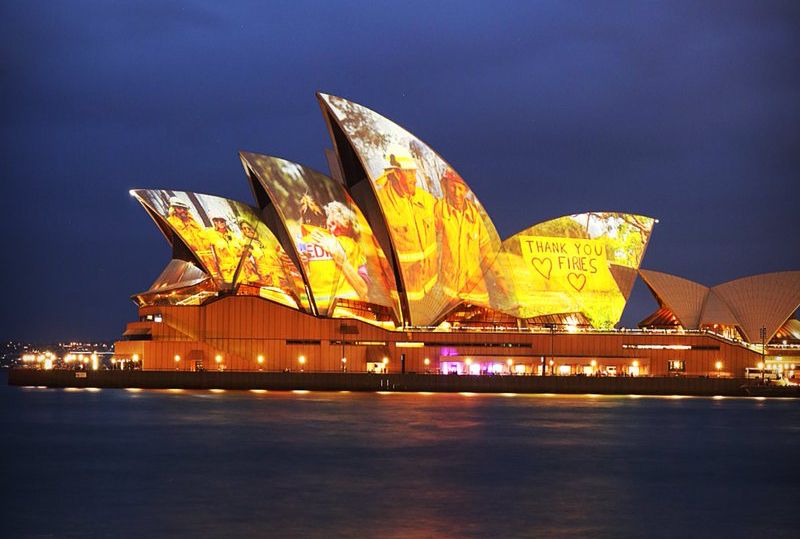 ---
Where can I find up-to-date information on bushfire affected areas?
Tourism Australia has developed a Bushfire Information resource that shows which popular international tourism areas have been affected by bushfires to ensure that industry and travellers have the most accurate and up to date information. It also provides useful links and general bushfire safety information.
You can also view an Interactive Bushfire Map, showing the true impact of the fires. It highlights some of the most popular Australian tourism destinations visited by international tourists, indicating whether they have been affected by bushfires or are safe to visit.