Karin Beaumont has been part of the Premier Travel Tasmania team for more than eight years. We chatted with her just before the festive season, to find out more about her love for the Australian island-state of Tasmania!
---
Have you always called Tasmania home?
I've now lived over half my life in 'Tassie' (Tasmania).
I spent my childhood growing up in Adelaide, South Australia, but from the age of about seven, I had always wanted to go to Antarctica.
My undergraduate degree in Natural Resource Management from the University of Adelaide laid the groundwork for this and I was then fortunate to be awarded a scholarship and move to Tassie in 1995 to do an honours degree, followed by a PhD, in marine biology at the Institute of Antarctic and Southern Ocean Studies. I've never looked back!
---
How have your Antarctic studies assisted with guiding across Tasmania?
There are several components to my background which I feel inform what I do as a tour guide.
One is the scientific background: having a comprehensive knowledge of the plants and animals that inhabit the land and water.
In addition, general research skills are an asset to being a good guide. Being able to gather and distil information and remain abreast of current developments and opportunities enables me to deliver tours that are informative and meaningful.
I also worked as a voyage leader on the Aurora Australis during trips to Antarctica. This involved managing people and logistics as well as optimising schedule timing, all extremely relevant to guiding. Developing personal relationships, being able to pick up on what people are interested in and assessing how they're faring is also important. These skills certainly come from experience in leading voyages.
---
We've also heard that you have quite an interesting passion linked to your science background?
After I finished my PhD, I often joked that as therapy, I did night courses in making jewellery. Now I actually run my own small business as a contemporary jeweller and artist.
I saw all these amazing creatures down the microscope and thought, "hardly anyone knows about them!" They know about the charismatic whales, the dolphins and the penguins, but little appreciation of how important and how beautiful these microscopic plants and animals are."
So, I began making jewellery inspired by those microscopic shapes and forms and using my works to pique people's interest in these amazing creatures: in essence using my jewellery as an educational tool.

Image: Karin's jewellery (right), inspired by microscopic plant and animal life (left - photo credit: Gustaf Hallegraef)
View more of Karin's jewellery
---
What do you enjoy most about your role as a wildlife guide?
Most people these days live in man-made environments, and Tasmania is blessed with large tracts of natural habitat that remain unspoiled.
As a wildlife guide in Tasmania, I bring guests to places where they are able to encounter wildlife in its natural environment. Seeing the guests' wonder and delight in this experience is priceless. I'm fortunate to live here, but I'm even more fortunate to be able to share these special wildlife experiences with others.
I love people as much as I love wildlife! I really enjoy developing rapport and relationships with my guests and many of them become lifelong friends.
I have a conversational approach to my guiding, and tailor the content according to their interests. I really love surprising my guests and making each tour experience unique. For example, they might be coming on a wildlife tour, but they also have a love of food.
In addition to seeing wildlife in their natural habitat, I can take them to a native bush-food garden where they can learn about and sample our native edible plants.
In Tasmania, you develop local connections that allow you to offer guests an individual and distinctive experience.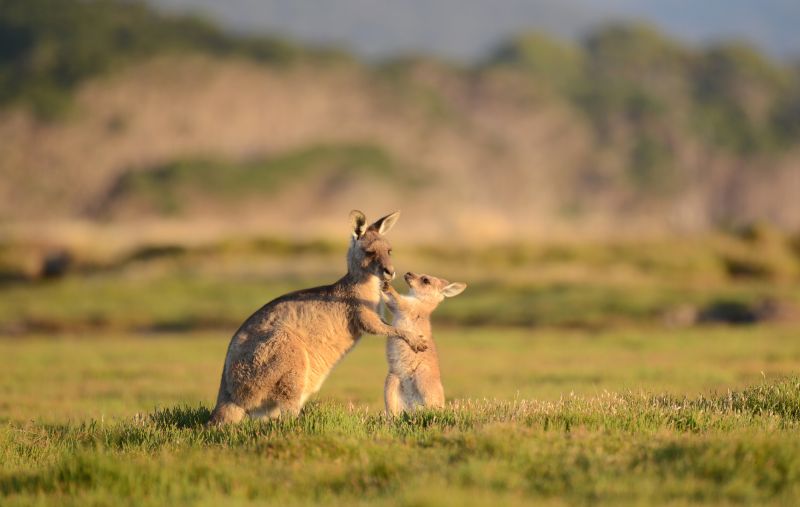 The Forester Kangaroo is one of the stunning wildlife encounters you can expect in Tasmania
---
How many days do you recommend guests spend in Tasmania?
As long as possible!
When guests come for just one or two days, they always leave wishing they had allowed more time for Tasmania.
People think it's a small island, but it is the 26th largest island in the world! There is so much to explore.
The distances and the roads is part of the appeal - you do sometimes have to make an effort to get to some of these places to be rewarded, so I would recommend between five to seven days to experience the best of what Tasmania has to offer.
For those that have more time, spending 10-14 days in Tasmania allows you to really experience the diversity of our landscape from snow-capped mountains, waterfalls, and temperate rainforest to jagged rocky coastlines and sparkling white beaches.
It also ensures you have time to meet and engage with the locals, both human and wildlife!
You can rush around and see more in a shorter time, but that's not what we (Premier Travel Tasmania) are about - we're about taking the time for people to really immerse themselves, obtain a sense of place and be able to connect with Tasmania, the wildlife and the people.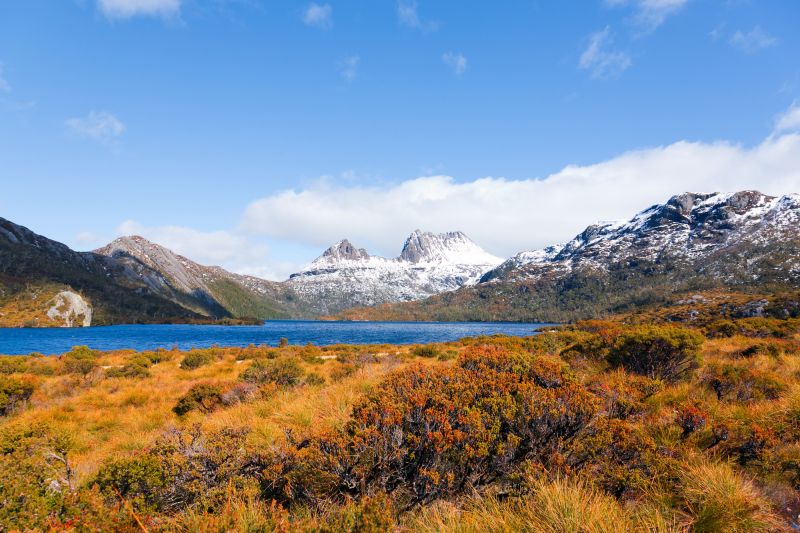 Just one example of Tasmania's diverse landscapes: Cradle Mountain National Park
---
Do you have any favourite locations?
I do, but it changes, depending on the season.
Recently, I've been spending a lot of time in the north-west of Tasmania in the Tarkine area (the second largest expanse of cool temperate rainforest in the world). People are just starting to become aware of this special region. It is a wonderful place to see many of our endemic birds, especially the birds of prey such as the Tasmanian Wedge-Tailed Eagle.
The north-west is also rich in Aboriginal heritage, which is a personal interest of mine; how the Aborigines cared for country and as a result lived in harmony with the land, seasons, and the native wildlife. There are a number of local tourism ventures that are emerging in the north-west. Those who live in the region are so passionate about the area and the wildlife, and it's a really genuine, authentic experience.
Because it's a little further from the main centres, you do have to make an effort to get there but it's an opportunity to experience true wilderness - you tell guests that there's one bathroom stop at the beginning of the day and one at the end of the day, with coffee shops few and far between!
You are really in the wild and at the mercy of whatever the elements throw at you. This gives you an amazing opportunity to learn about the wildlife, the stunning coastline and the history and culture of the area.
---
How about favourite wildlife species?
I'd have to say the Common Wombat even though it's not endemic.
The Tasmanian Devils are of course the iconic Tasmanian species, being the largest carnivorous marsupial in the world, and they are fascinating and unique animals, but the wombats are my favourite.
They're such an amazing creature, in the way that they dig extensive burrows and defend them. They have a hard muscle 'plate' in their bottom which they use to block their burrow from predators. They also excrete cube-shaped poo, and have a backwards-facing pouch, which is really cute when you see a joey putting its head out the back of mum's pouch.
We often see wombats in the wild at Cradle Mountain or on Maria Island. Seeing these animals so unafraid and oblivious to you being there is extremely special. They just go about their activities, munching away on the native grass, having a scratch, and generally being photogenic!
They're the species that guests often get such a thrill out of seeing in the wild.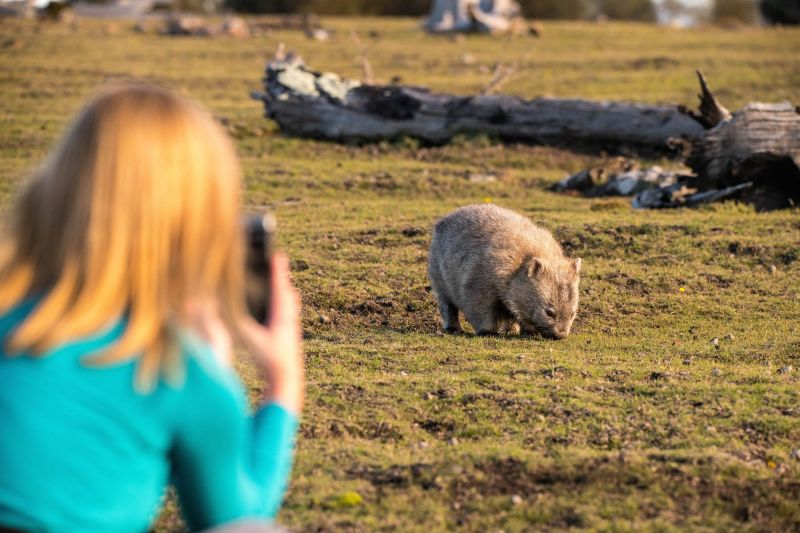 The iconic Common Wombat
---
What is the best time of year to visit?
Personally, I really love Autumn (March to May)!
It is not as busy as in the summer and the weather is often more stable. The autumn light is so beautiful. It's a really soft light in the autumn which is great for photography, especially at dawn and dusk when much of our wildlife is most active.
---
Are there any common reactions among your guests visiting Tasmania?
Yes - they're always surprised and impressed at how well-maintained the access trails are in our National Parks and how clean everything is here. How clean the streets are, how clean the environment is, the air etc!
Also, the variety of things to see and do and how friendly the locals are.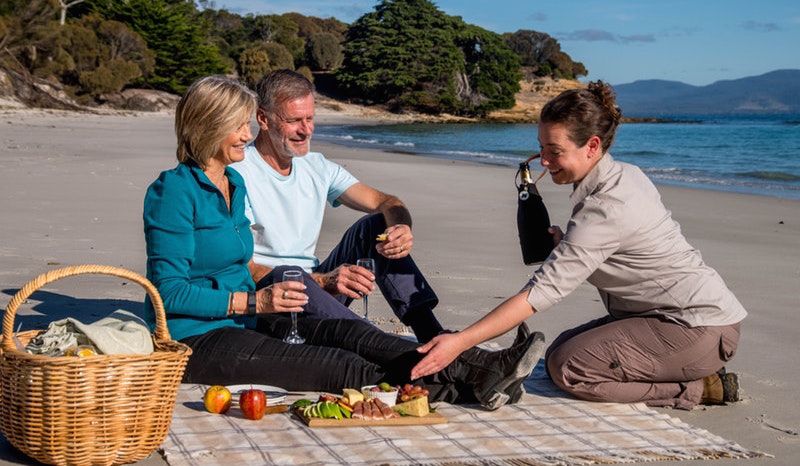 Premier Travel Tasmania combine extraordinary wildlife encounters with outstanding Tasmanian hospitality
---
Have you noticed any changes across the ecosystem during your time in Tasmania?
The emergence of the Tasmanian Devil Facial Tumour Disease (DFTD), a unique contagious cancer transmitted through devils biting each other, has been a significant change in our ecosystem. The Devil's immune system does not recognize the tumour cells as foreign and the cancer spreads throughout the body resulting in a loss of up to 95% of the population in some areas of the state.
We have also seen outbreaks of wombat mange, a disease caused by a parasitic mite that causes hair-loss. While mange has been present for over 100 years in Tasmania and on the mainland, we see more extreme localised outbreaks from time to time. The most recent outbreak has been in the north of the state in Narawntapu National Park causing a population decline within this area.
The great news is that any threats to our wildlife are met with incredible efforts by scientists and the community to mitigate these diseases, such as the Save the Tasmanian Devil Program (STDP). With the Devils, there has been an intensive relocation and captive breeding program within Tasmania but also on mainland Australia and in wildlife parks overseas. There has been research to develop vaccinations for DFTD and efforts to increase the genetic diversity in healthy Devil populations in the wild. Together with an annual monitoring program over the last decade, the most recent findings are positive indicating that Devils are coexisting with DFTD as part of their ecology.
With regard to the wombat population, community groups and wildlife carers are treating mange-affected animals and research is being undertaken to formulate more effective ways of treating wombats in the wild and to manage outbreaks. Ongoing monitoring of the population shows that wombat numbers have increased in Tasmania over the past 30 years and the population is continuing to grow.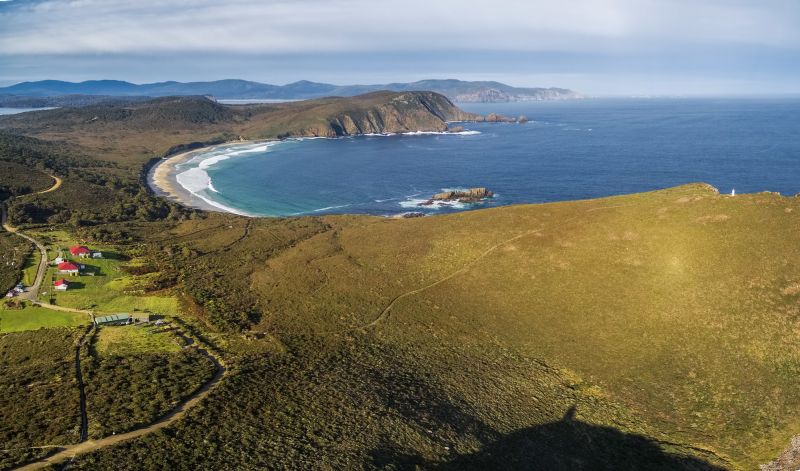 One of Tasmania's jaw-dropping coastlines
---