Naturaliste Charters operate full day Killer Whale expeditions out of Bremer Bay in Western Australia. From January to April each year, these expeditions take guests out to the edge of the continental shelf to the submarine 'Bremer Canyon', where they get the opportunity to encounter pods of wild Killer Whales.
---
Quick Facts
Region: Bremer Bay, Western Australia
Operating Season: January until April
Duration: Full day (approximately eight hours)
Inclusions: Morning tea, lunch and afternoon tea plus a selection of hot and cold beverages.
The Bremer Bay Killer Whale Expedition
After arriving at 7.45 am at the Bremer Bay Boat Harbour, guests will board the Naturaliste Charter's long-range expedition vessel purpose-built for the Southern Ocean, ready for an 8:30 am departure. From Bremer Bay, the landscape of scenic bays and cliffs along with sparkling turquoise waters will shortly give way to the deep blue expanses of the Southern Ocean. On departure, guests should keep an eye out for dolphins, Australian Sea-lions and numerous seabirds.
The expert crew will commence an exciting and informative multimedia presentation, delving into the Killer Whale's biology and ecology, as well as information about the other marine life the expedition is likely to encounter. After a journey of approximately 1.5 hours, the vessel will arrive in the Bremer Canyon area, one of the most amazing marine environments on earth, where guests will commence the search for the apex predator in the ocean, the Killer Whale.
It is common for pods of Killers Whales to approach and surround the vessel and expeditions often witness these magnificent creatures hunting. The spectacle of these predators chasing and devouring their prey is breath-taking, with seabirds such as albatross and shearwaters only too happy to pick up the scraps. On-board an expert marine biologist will share information about the pods' social behaviours, along with other facts about the local marine ecology.
Acoustic Monitoring
In addition to witnessing these incredible marine mammals, guests may also be able to hear them if conditions permit. Killer Whales live in family pods that have their own unique dialect or range of sounds. In other parts of the world, researchers use these vocalisations to identify family pods
Although the region has not been studied in details, researchers are already discovering information and movement patterns of pods in the region, providing a platform for future management and conservation.
Photo Identification
Naturaliste Charters also invites guests to participate in contributing photo ID shots of the animals encountered, to contribute to the growing database of individuals. As a citizen scientist, your ID shots also make a valuable contribution to this important research, conducted by Project Orca.
Individual Killer Whales have variations in the shape of the dorsal fin (with notable variations such as nicks and notches), the white eye patch's shape and size, and the grey marking on the back (also known as the saddle patch).
The day of unforgettable encounters is fully catered, with morning tea, lunch and afternoon tea provided, and unlimited hot and cold beverages are available. The vessel returns approximately 4.30 pm, with guests sure to be left awed by our amazing blue planet.
Bremer Bay
Bremer Bay is a small coastal town located on the south coast of Western Australia, between Albany and Esperence. With a population of just over 200 (2016 census), this community boast a spectacular sweeping coastline of white sand beaches, rugged cliffs and stunning turquoise-blue waters. In recent times, Bremer Bay has risen in prominence as the gateway to one of the ocean's great wonders; the Bremer Canyon.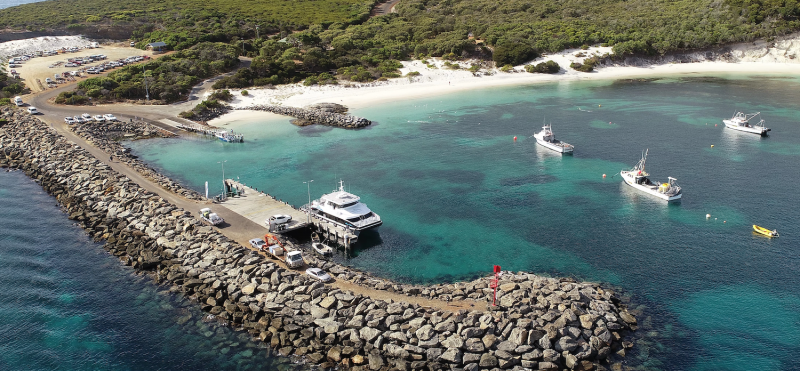 Bremer Canyon
Located 60 kilometres offshore, this submarine canyon located at the edge of the Australian continental shelf supports one of the most astonishing aggregations of marine life anywhere on the planet. As cold water from extreme depths moves towards the base of the canyon, it brings nutrients used by phytoplankton and microscopic plants that provide a rich source of food for larger marine species.
Key Wildlife Encounters
In addition to the Killer Whale encounters, there are a range of notable species that guests can possibly spot, when joining a Bremer Canyon Killer Whale Expedition, including:
Bottlenosed, Striped and Common Dolphins
Long-finned Pilot and Sperm Whales
Hammerhead, Oceanic Blue and Whaler Sharks
Australian Sea-lions
Long-nosed Fur Seals
Giant Squid
Wandering Albatross
Indian Yellow-nosed Albatross
Naturaliste Charters
Naturaliste Charters has been operating spectacular eco-adventures in Western Australia for over 20 years. Paul and Alison Cross purchased the business in 2009, with the aim to enrich people's lives through the provision of an ecotourism experience defined by the highest standards of safety, customer service, environmental sustainability and connection between guests and the extraordinary marine biodiversity of the region.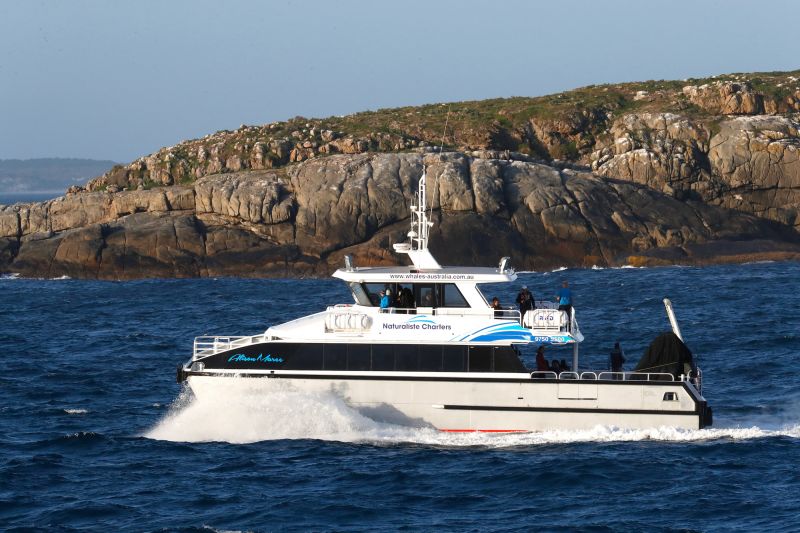 Getting to Bremer Bay from Albany
Bremer Bay is located approximately 160 kilometres (100 miles) east of Albany. Driving time from Albany to Bremer Bay is approximately two hours. Naturaliste Charters offers transport to Bremer Bay from Albany with Busy Blue Bus.
Getting to Bremer Bay from Perth
Bremer Bay is located approximately 480 kilometres (300 miles) south-east of Perth. Driving time from Perth to Bremer Bay is approximately five hours. Alternatively, take a 60-minute flight from Perth (PER) to Albany (ALH) and drive two hours to Bremer Bay, either self-drive or with Busy Blue Bus.
Bremer Bay Accommodation
Accommodation options in Bremer Bay include Bremer Bay Resort (3-star), Bremer Bay B&B (3-star) and the Bremer Bay Caravan and Camping Park along with some AirBnb options. For those looking for a luxury property, the 5-star Premier Mill Hotel is located two-hours drive north (inland) of Bremer Bay.
Albany Accommodation
Accommodation options in Albany include Albany Waves, Maitraya Private Retreat, The Beach House at Bayside and Pelicans Albany, along with some AirBnb options.
---
---