Every year, between May and October, great whales migrate from Antarctica to the warmer waters off NSW and Queensland for breeding. One of their favourite stops on their journey is Phillip Island, where they gather for short stays along the Island's sheltered bays and the surrounding open sea. Humpback and Southern Right whales are the most common species that visit the area, but the occasional pod of Orcas also pass through while foraging.
The Humpbacks are the easiest to spot because they spend more time on the surface than any other whale. The species gets its name from a visible hump that appears when the whale arches its back to dive. Individuals are identified from distinct markings on the underside of their tail flukes. They also have a white underside, long flippers (pectoral fins), a small dorsal fin and a rounded blow. Humpbacks are known for their spectacular breaching behaviour and the males of the species sing long complex songs.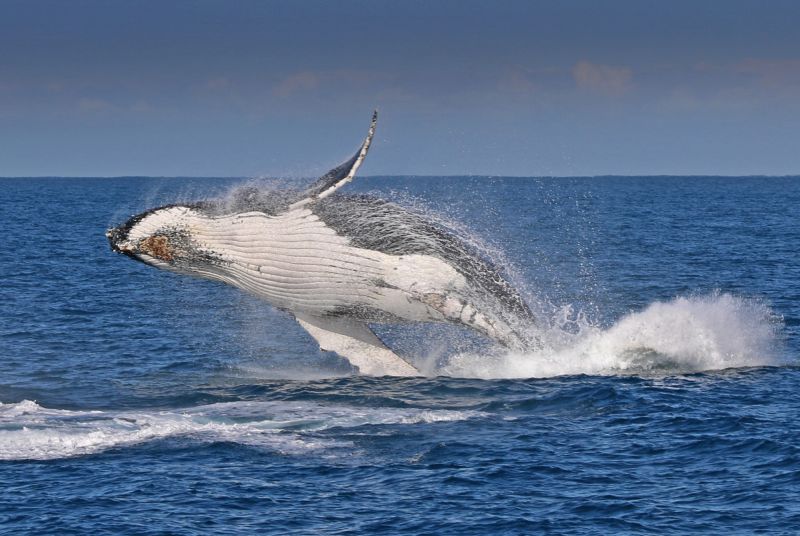 Southern Rights, on the other hand, are mostly black, lack a dorsal fin, have rounded flippers and a v-shaped blow. During the intensive whaling period of the 1800s, they were called the 'right whale' to catch because of their meat and high oil content, hence their name. Since then, their numbers are slowly recovering. Their slow-moving behaviour makes them easy to spot, and they often approach boats because they are characteristically curious and playful.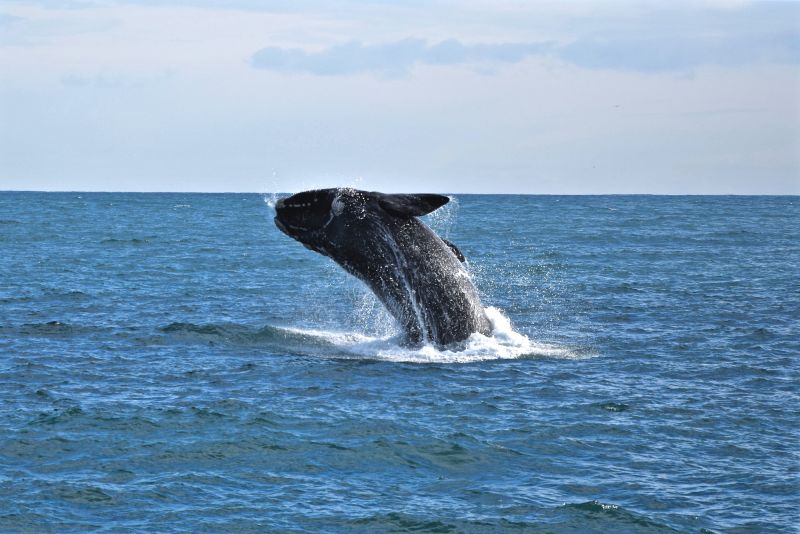 Both whales grow up to approximately 18m and their size makes them easy to spot from land. Cape Woolamai, the Nobbies, and Pyramid Rock are the best location on Phillip Island for whale spotting but nothing beats seeing them up close from the water. Wildlife Coast Cruises Winter Whale Cruises are a great way to have an up close and personal encounter with these amazing cetaceans. In the 2018 whale season, approximately 400 whales were sited from the boat. Each year, the number of whales visiting the area have increased and another bumper season is expected.
Wildlife Coast Cruise's Winter Whale Cruise circumnavigates Phillip Island, visiting Seal Rocks and whale hotspots in the area. An informative commentary is delivered by experienced and passionate skippers, who also give tips on how passengers can help spot whales from the boat. Additionally, there are regular encounters with dolphins and seabirds, such as the shy albatross.
Passengers are also treated to a delicious morning tea and freshly made lunch on board.
The Whale Festival and the Winter Whale Cruises are eco-experiences that invite participants to have special encounters with these magnificent creatures and to learn more about them. These kinds of experiences contribute to raising awareness and understanding about the need to protect these beautiful animals so that the kind of whaling that occurred a hundred years ago, never happens again.
Witness playful dolphins and the majestic whales during the winter season with this marine adventure led by Wildlife Coast Cruises. Marvel at the acrobatics of Common and Bottlenose Dolphins and be in awe of the gentle giants as they pass one of Australia's most spectacular stretches of coastline.
Guests will learn about the spectacular coastal formations along with facts about whale biology, social behaviour, communication and migration patterns as the captain and crew share their knowledge and passion about these animals. There are also regular opportunities to spot Shy Albatross, White-bellied Sea Eagles, Australasian Gannets, cormorants and gorgeous Australian Fur Seals.