Australia is home to a some of the world's most iconic birds - 828 individual species, according to a 2008 study (Christidis and Boles). Some Australian birds are known for their audible abilities; some for their size, and others for their spectacular colourings.
Let's take a look at what birds we think make Australia's Top 10 Most Beautifully Coloured Birds.
10. Scarlet Robin (Petroica boodang)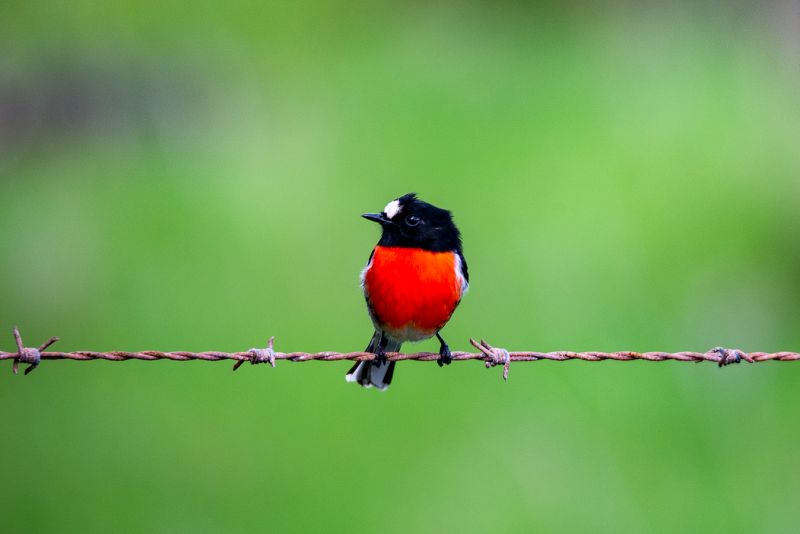 In 10th place, we have the Scarlet Robin - named after its impressive bright scarlet chest. Many Robin species have a very colourful male but more reserved females, however, both male and female Scarlet Robins possess the scarlet colourings on their chest although this colour on the males is much brighter. The females have a brown head, cream-brown body and a slight patch of (pale) scarlet on their chest.
---
9. Red-winged Parrot (Aprosmictus erythropterus)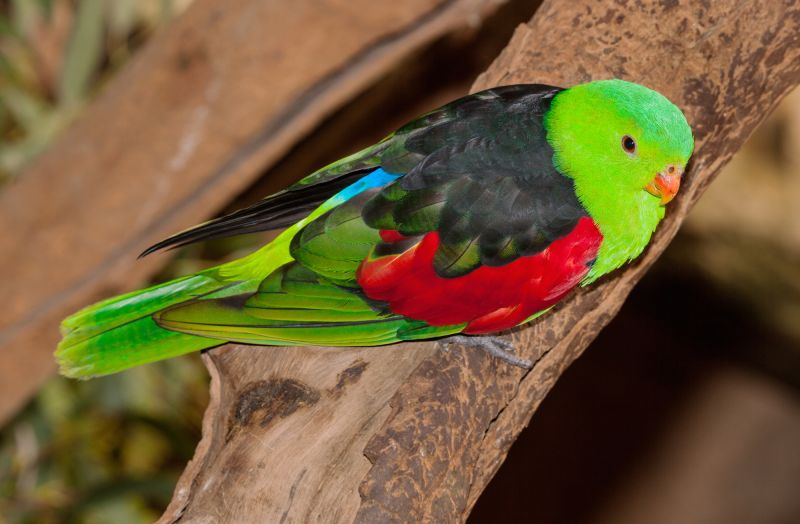 Measuring up to 33cm in height, the Red-winged Parrot is one of Australia's largest and most colourful parrots. Featuring mostly shades of green across the head, throat, wings and tail, the shoulders instead flaunt are a brilliant crimson red. This patch of red is much more prominent in flight, particularly in males. Males also have a blue rump which they flash at their female partner (or partner-to-be) to impress her.
Where can I see the Red-winged Parrot?
The Red-winged Parrot is found around Australia's northern and north-eastern coastlines in Queensland and the Northern Territory. Local wildlife operators Lords Kakadu & Arnhemland Safaris and FNQ Nature Tours will give you the best viewing opportunities.
---
8. Eastern Rosella (Platycerus eximius)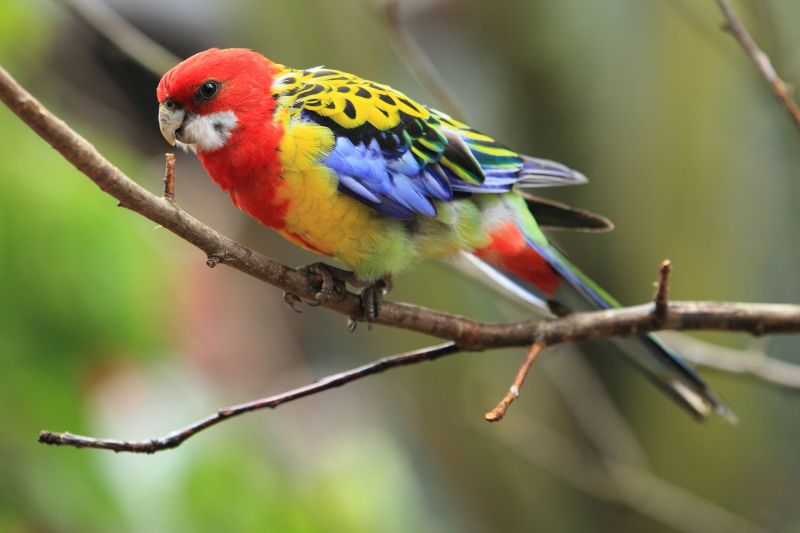 Most Australians would recognise the Eastern Rosella as the mascot for long-running Australian food brand, 'Rosella'. The extremely colourful bird is perhaps a little unlucky not to make it higher on our list. As the name suggests, they are found in Australia's south-east in open woodlands and farmland, feeding on seeds, blossoms, nectar and occasionally insect larvae.
Where can I see the Eastern Rosella?
The Eastern Rosella is commonly found in New South Wales and Victoria. There will be viewing opportunities when travelling with the following wildlife operators:
---
7. Pink Robin (Petroica rodinogaster)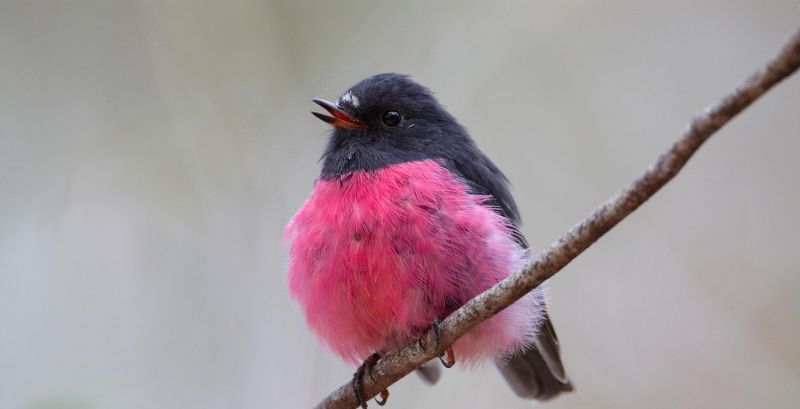 Much like the Flame Robin, the Pink Robin is suitably named. The raspberry-pink chest makes for a beautiful (almost unbelievable!) encounter. And again, much like the Flame Robin, this pink is only present in males, with female Pink Robins appearing very similar to the female Flame Robins, with shades of brown replacing the black and pink.
Where can I see the Pink Robin?
The Pink Robin is found in south-eastern Australia, including Tasmania. Wildlife operator Premier Travel Tasmania will give you the best opportunity to view this species.
---
6. Mulga Parrot (Psephotus varius)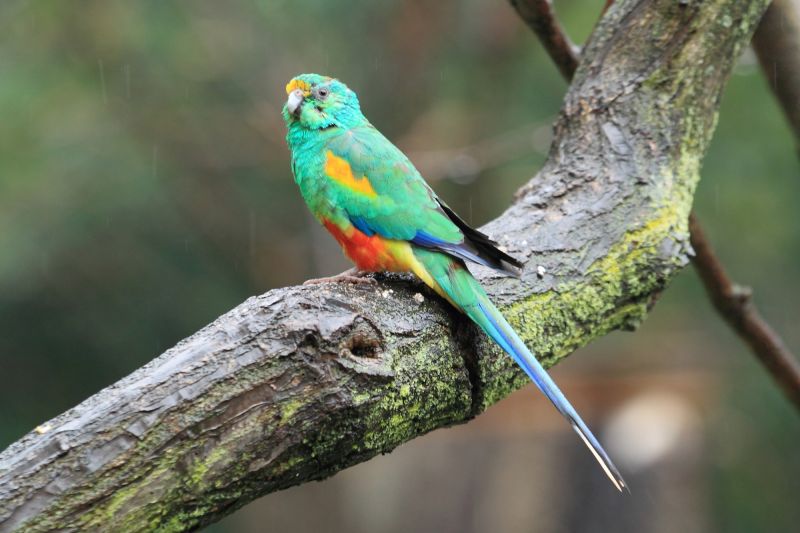 The Mulga Parrot, also know as the Many-coloured Parrot, is found in the arid regions of inland Australia. Their bright 'blueish-green' plumage is most noticeable, with a mix of red, blue and yellow appearing on their lower chest. They also usually have a small patch of yellow above their beak. The females possess more of a duller-brown on their upper chest and back but still feature the beautiful colourings on their lower chest and tail.
---
5. Splendid Fairy-wren (Malurus splendens)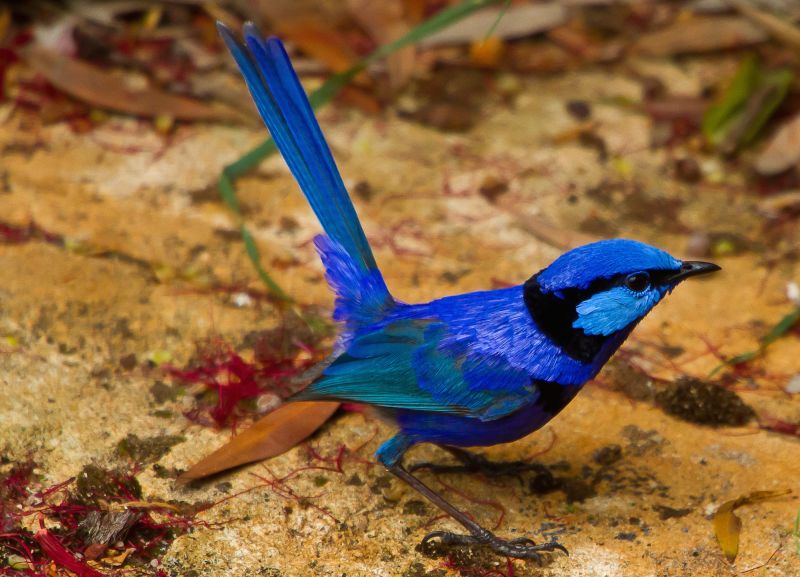 Found mainly across Australia's lower outback and on the south-western coastline, the (male) Splendid Fairy-wren is a vibrant, cobalt blue colour. Colour shades vary somewhat across western, central and eastern races, however, their trademark blue is present in all males. Just like the Scarlet Robin and Pink Robin, the female Splendid Fairy-wren possess none of these blue colours, instead featuring shades of brown.
Where can I see the Splendid Fairy-wren?
SEIT Outback Australia in Australia's central outback will offer the best viewing opportunities:
---
4. Rainbow Lorikeet (Trichoglossus haematodus)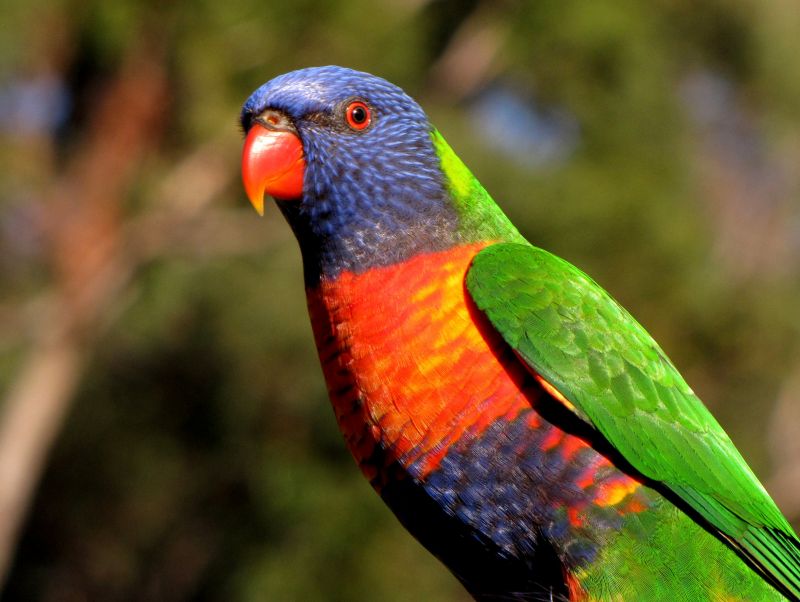 As the name suggests, the Rainbow Lorikeet literally features every colour of the rainbow. Did you know, this species was the first Australian parrot to be illustrated in colour? They were published in a book way back in 1774!
---
3. Azure Kingfisher (Ceyx azureus)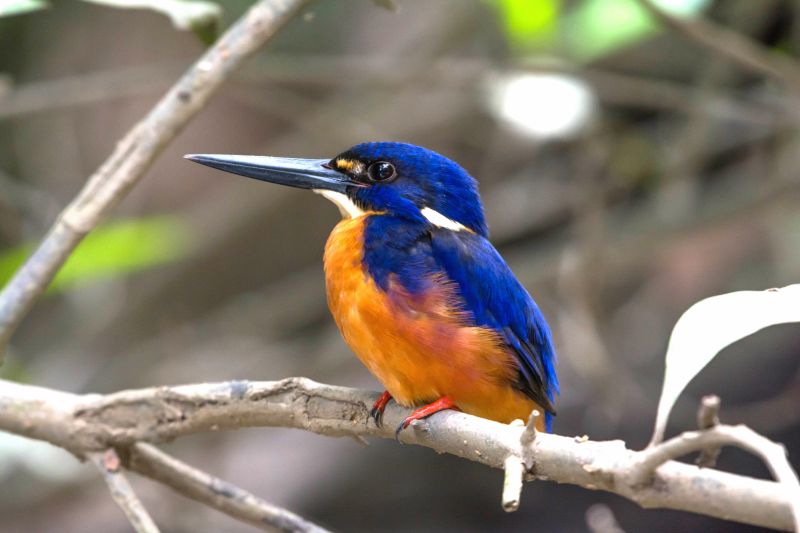 Some might argue that based on the diversity of colourings, the Rainbow Lorikeet should be ahead of the Azure Kingfisher. In this case, we selected the Kingfisher because of a combination of its vibrant colours and spectacular consistency. With similar cobalt blue to the Splendid Fairy-wren plus the beautiful orange covering the entire front of the bird, seeing one in the wild is truly awesome!
Where can I see the Azure Kingfisher?
The Azure Kingfisher is found around Australia's eastern coastline, ranging from the Kimberley region in Western Australia, right around the eastern and south-eastern coastlines to South Australia. The best viewing opportunities will be when travelling with the following wildlife operators:
Lords Kakadu & Arnhemland Safaris FNQ Nature Tours Echidna Walkabout Nature Tours
---
2. Rainbow Bee-eater (Merops ornatus)
At number 2 is the stunning Rainbow Bee-eater, found in great numbers right across Australia. This vividly-coloured bird, like the Rainbow Lorikeet, features all colours of the rainbow and more! They feed on wasps, bees, dragonflies and other insects of similar size.
---
1. Gouldian Finch (Erythrura gouldiae)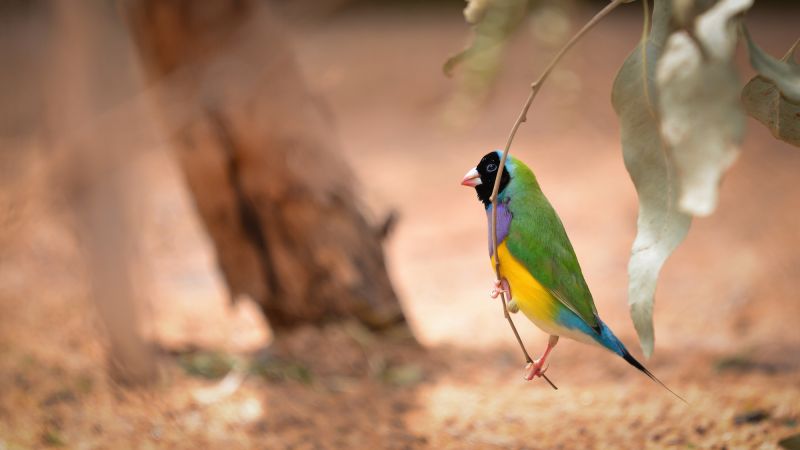 Coming in at number 1 is the Gouldian Finch, found in northern Australia spanning from Western Australia's Kimberley region to central Cape York in northern Queensland. This truly beautiful bird features a mix of pale ochre-yellows, greens, light blues, purples and darker grass-green on the back and wings. Similar to many other species featured here, the males are a lot more vibrant in colour.
Where can I see the Gouldian Finch?
Due to the illegal bird trade, Gouldian Finch numbers have decreased dramatically over the past 50 years. Currently, the best viewing opportunities are with Lords Kakadu & Arnhemland Safaris in Australia's Northern Territory.
Of course, these selections are all open for debate - what do you think is Australia's most beautifully coloured bird?
Reference list
Atlas of Living Australia - https://www.ala.org.au/ (updated 2018)
Readers Digest - Complete Book of Australian Birds (2010)