Wildlife-based tourism is growing rapidly as more people travel the world. However, not all animal experiences are created equal. It's widely agreed that the only sustainable and ethical experiences are those where humans simply observe animals going about their daily lives in their natural habitat – no touching, no feeding, nothing that disrupts their existence.
Here's what you can do to play your part in fostering the right kind of wildlife relationships.
Book a tour with a company that actively contributes to conservation
If you're interested in doing what's best for the wildlife, think about booking a tour with companies that are actively engaging with conservation projects. There are a number of great tour operators in Australia who run small group expeditions designed to both educate guests and support the animals.
"Simply by having a Wild Bush Luxury experience at Arkaba, guests are making a direct contribution to our conservation efforts," Brendon Bevan, Arkaba's conservation and general manager explains. "Not only do they get to participate in what we do, but their very presence enables us to continue all the behind-the-scenes efforts to ensure the continuation of our recovery story.
Wildlife spotting opportunities at Arkaba – a luxurious bush lodge and wildlife conservancy in South Australia's Flinders Ranges – include regular sightings of Australia's three largest macropods (Red Kangaroo, Western-grey Kangaroo and the Common Wallaroo) and the near-threatened Yellow-footed Rock Wallaby – a species that has returned to Arkaba's range since the introduction of active conservation programs.
Craig Wickham, Managing Director of Exceptional Kangaroo Island, agrees whole heartedly and emphases that if guests get out in nature, then they have a better motivation to assist conservation efforts. "Our tours act as an interface between the community, environment and guests. Getting people out into the bush, to the coast or into the ocean in small groups with informed guides – this is the best way to grow their understanding," he says.
One of their most interesting options is accompanying Dr Peggy Rismiller – who is a Kangaroo Island resident and an expert on Short-beaked Echidnas – for a walk through the bush, where she interprets echidna diggings and occasionally spots one of the shy Aussies. "To put that in perspective, when Peggy goes looking for an echidna not fitted with a radio transmitter she finds one every 170 hours or so! It is not that they are so rare, more that their hearing is excellent and they simply hear her coming and quietly move away or hide," Craig says.
It's by joining the right tours (even if no wildlife is seen), that travellers concerned about animal welfare can help. Janine Duffy, co-owner and founder of Echidna Walkabout Nature Tours explains:
"By supporting a tour where guests see animals in the wild, tour guests help wildlife. Wild animals live in healthy natural environments and wild animal tourism spreads the benefit and impact."
Get involved
For travellers who want to actively participate in conservation efforts, there are plenty of hands-on options around. Janine, who is deeply passionate about Koalas, lost 30 individuals that she'd been closely following for many years to a bushfire in 2006.
"I realised that we have to strengthen Koala populations so that some survive the next bushfire," she says. "There will be another bushfire, but Koalas have survived countless bushfires in the past when they lived in vast healthy ecosystems. Our Koala populations are not robust anymore and to change that we need people speaking up for them – protecting their forest and planting new forest."
Guests can help Koalas by going on tours to see them ("Seeing animals in the wild already encourages conservation," Janine explains) and a donation to the Koala Clancy Foundation is included on behalf of every guest who goes on a tour (the funds go to helping facilitate activities such as koala tree planting, advocacy and education). If you're after a more hands-on experience, removing weeds as part of the Make a Home for Koala Clancy Project initiative helps to improve Koala habitat.
At Arkaba, guests can join in conservation activities such as tracking radio-collared feral cats, searching for vegetation that is critical to endangered species, and joining a biologist on land survey expeditions. "We encourage all of our guests to participate in our conservation story, rather than simply spectating," Bevan says.
For guests touring with Exceptional Kangaroo Island, options include exploring the ocean with Kangaroo Island Marine Adventures (who support the community-run volunteer Kangaroo Island/Victor Harbor Dolphin Watch), participating in daily observations as part of the Cygnet Park Sanctuary project, and joining day-to-day conservation efforts.
"We are trialing the provision of nesting boxes for two species of Pygmy Possum to increase the availability of safe harbour for these tiny creatures; we have taken part in the annual census to assess key species' population trends – such as Hooded Plovers and Glossy-black Cockatoos; we also provide opportunities for guests to learn about the species recovery program," Craig says.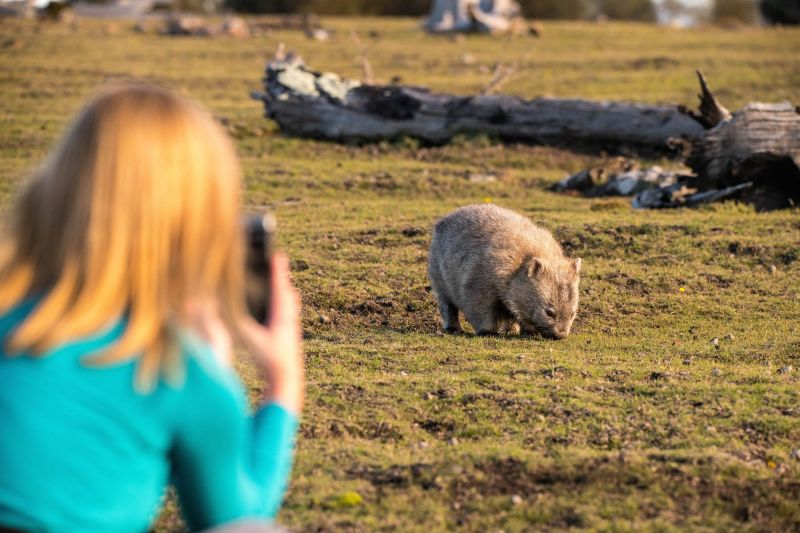 In Tasmania, Premier Travel Tasmania guides encourage guests to take photos of wildlife that interests them. "We encourage our guests to log the photograph sightings and we pass this information onto scientists, volunteers and conservationists in the field," says Tina Hussey, who works an office manager with the company. "We also run 'Meet the Specialist' tours. People who spot wombats suffering from mange (a skin infection), log GPS coordinates and take photos and this information goes to the Wombat Rescue Tasmania, who use it in their conservation efforts."
In Far North Queensland, FNQ Nature Tours launched a new experience in 2018, which sees guests go out on safari with tree kangaroo experts to conduct research. "They look for territorial feeding areas, tree scratch marks and learn more about their overall behavior," owner and operator James Boettcher explains.
"Tree kangaroos are very understudied – but studying them is educational and crucial to their survival. We have thermal technology to view them interacting at night and also visit several locations where local tree kangaroo enthusiasts are caring for the sick and injured."
After the tour
Conservation efforts don't have to stop once the wildlife experiences are over. Guests can talk about their experiences, consequently growing understanding in the wider community. "We love it when our guests share their photos and stories with others to inform people of the unusual nature of tree kangaroos," says James. "Also, people can donate to our Tree Roo Rescue Program on the Tablelands."
At Echidna Walkabout Nature Tours, guests can donate to the Koala Clancy Foundation, buy the book Koala Clancy of the You Yangs and stay in touch and spread awareness through Koala Clancy's facebook page.
Exceptional Kangaroo Island guests can participate in animals' species recovery programs. "This activity includes a donation to the Nature Foundation SA, which is channeled back into the program," Craig explains.
Other tour providers offer similar opportunities – through encouraging social media communication, accepting donations to assist research and conservation works, and by cultivating education. "Travellers can help by becoming advocates for the wildlife in their area," Craig adds. "Continuing to raise the issue of the importance of looking after our environment and maintaining a balance between our economic, social and environmental needs."
Search for 'behind the scenes' experiences with researchers and conservationists that actively helps Australian animals here.