The breeding season has commenced for turtles across the beautiful Ningaloo coast. This is a critical area for nesting, with three of the world's seven marine turtle species selecting these beaches to lay eggs from November to March. The staff at Exmouth Dive & Whaleshark Ningaloo are proud to be assisting with the Ningaloo Turtle Program, aimed at conserving the local marine and terrestrial ecosystems to ensure the Green, Loggerhead and Hawksbill species can continue to successfully breed in the area.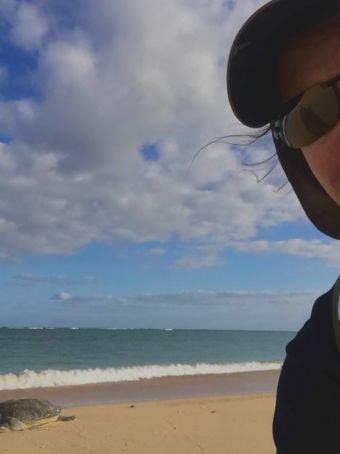 The initiative is led by the Cape Conservation Group (CCG), the Department of Parks and Wildlife, Murdoch University and WWF Australia, with local volunteers key to the success in meeting the following objectives:
Identify key nesting beaches and providing guidance on the relative significance of these habitats;
Recording threats such as feral predation (such as foxes), beach access management and tourism impacts that may impact breeding success and nesting;
Monitor turtle populations and assess trends at key index sites and offer protection to these areas;
Educate tourists and the community about marine turtles and minimising the impact of visitation to the area on the turtles.
Alongside, is an image of a beautiful female coming ashore, taken during an early morning visit to check for nesting tracks and log turtle behaviour.
To find out more information on volunteering fo this important project, please find additional information here.