From the moment our group of ten friends arrived at Sab Lord's wonderful Kakadu camp on June 1, 2017 the many species of wildlife absolutely amazed us. Birds, fish, mammals, reptiles, marsupials and insects were aplenty!
As we drove in we caught sight of a yellow Dingo disappearing into the bush and in the early morning heard howling in the distance. Around the actual campsite we quickly spotted a pair of Blue-winged Kingfishers scratching through the gum leaves then flying up into a branch above us. Then two of our party were lucky enough to discover a Marsupial Mouse scurrying away from their tent. Also in the marsupial family was a Brushtail Possum, waiting patiently in a tree.
The boat cruise from Cooinda that evening was incredible. Hundreds of species of birds including Jacanas (the males complete with four chicks!) Egrets, Brolgas, Whistling Ducks, Black and Brown Whistling Kites and the special sight of a small but brilliantly coloured Rainbow Kingfisher. There were a number of large Saltwater Crocodiles, the males cruising up and down the waterway protecting their territory.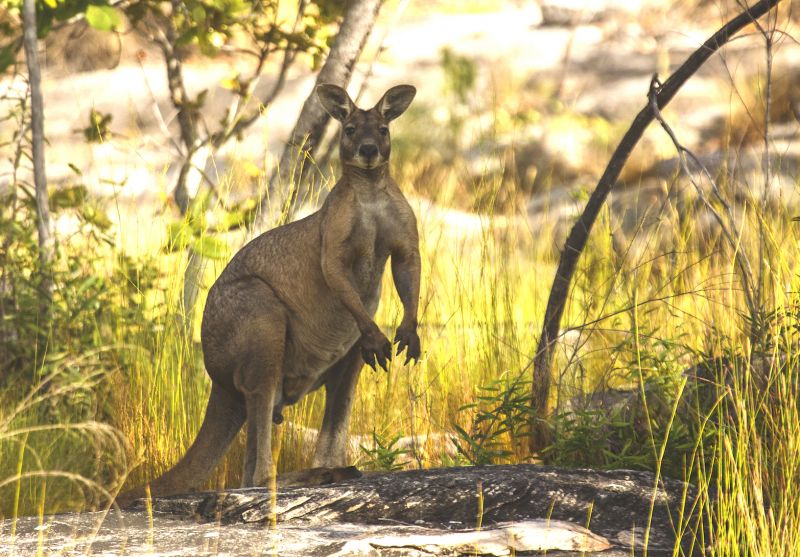 The next day on our way to Oenpelli we stopped to observe a Frilled-neck Lizard. Although expertly camouflaged, it was seen running up a tree and rotating itself around the branch trying to keep out of sight of us as we moved around below. The Antilopine Kangaroos were also exciting to see bounding across the road in front of our vehicle.
Small Barramundi, Grunter Fish, Rainbow Fish and Saratogas were clearly visible in the water as we walked up the Maguk Gorge that afternoon. We were also so lucky to discover a Rainbow Pitta hopping up a gully not far from the track.
The termite mounds were gigantic here and it was so interesting hearing about the termite behaviour and workings of their mounds from our extremely informative guides! On our way back to Darwin, Fogg Dam was again a bird's paradise. All the bird species previously mentioned before plus many more including Magpie Geese, cormorants and ibis. We also observed here a wild pig, some buffalo and Cane Toads. All a threat to native wildlife.
All in all, our Kakadu experience was incredible and the variety of wildlife a highlight. We thank our wonderful hosts Sab Lord and Dean Hoath so very much for an informative and extremely enjoyable few days in such a special part of the world.
Louise Armit – Swifts Creek, Victoria
Please click here for more information about creating your very own Kakadu adventure.