Ningaloo Reef is an incredibly diverse fringing reef system on Western Australia coast line. After a romantic full moon in March or April, the corals feeling the love on Ningaloo, release their eggs and sperm into the water column to carry out reproductive behaviour known as coral spawning. This coral-love-making event kicks off a very special time of the year. Following the spawning, zoo plankton blooms. Zoo plankton, including tiny krill, larvae of fish and crustaceans feed on the spawn. The increase of zoo plankton in the water attracts further feeding behaviour. These tiny planktonic organisms become food for the biggest of all fish in the sea, the Whalesharks.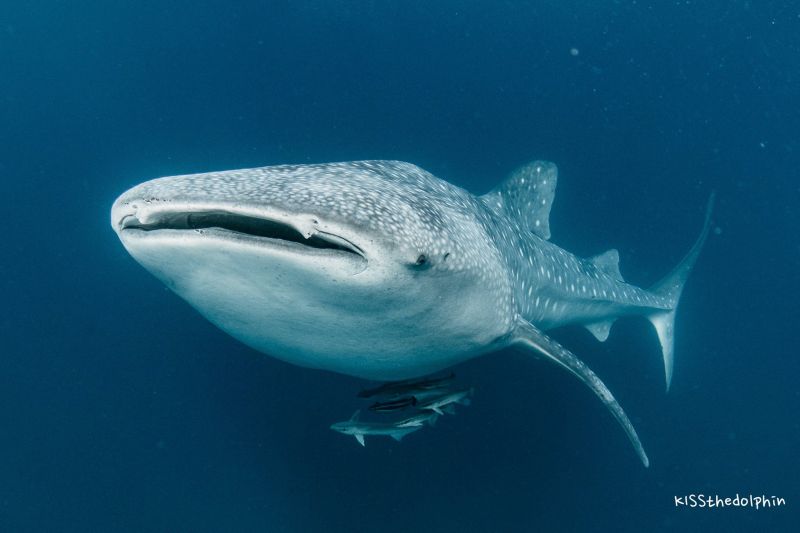 And so, a very magical feeding event on Ningaloo reef has been initiated.
From March to August each year the abundance of zoo plankton in the water around Ningaloo attracts the incredible Whalesharks to feed in the area. Whaleshark interaction and adventure tours are conducted out of Exmouth during these months. The tours give visitors a chance to swim side by side with these filter feeding spotty sharks in their natural environment. Not only do they offer an interaction with the Whalesharks, but an opportunity to see and learn about plenty more marine life throughout the Ningaloo Reef.
During these months we share some incredibly mind blowing and soul soaring moments. Never in my life have I ever felt magic more real than under the sea at Ningaloo. The Whaleshark swims are just one part; in the past week I have seen true magic every day. I see magic in the Glass Fish that swirl in synchronised fashion around coral bombies and overhangs; I see magic in the eyes of a Cuttlefish as she camouflages to change the entire texture and colour of her skin to mimic her surroundings; I see magic when the sun beams shine though to the deep blue depth of the ocean below; I see magic when the Stingrays burrow, undulating their wings on the sand to find food; I see magic when one Octopus reaches out and holds arms with another octopus to begin their mating exchange. Magic in the streams and schools of Surgeonfish, Parrotfish and Drummer all dancing and swimming amongst the corals carrying out their day to day activities.
And just when you think you have seen it all, Ningaloo steps up the magic one notch more.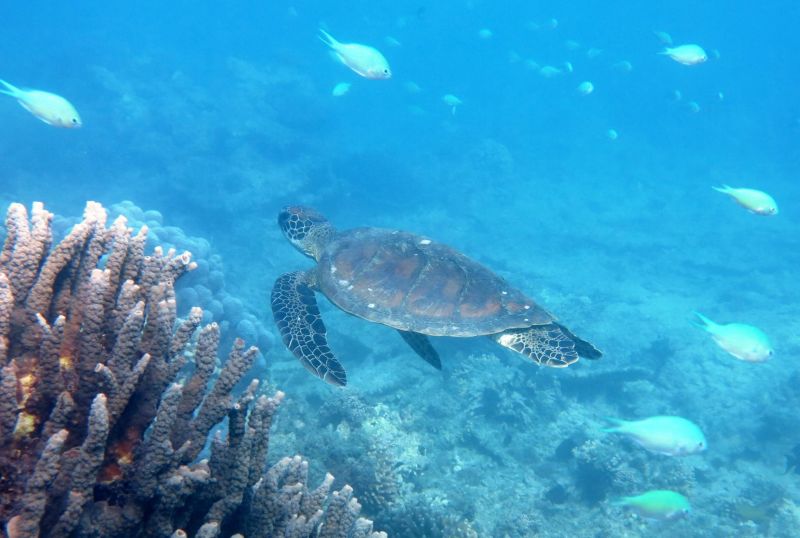 Just last week when swimming with 6 different Whaesharks in the morning was miracle enough; we came across a small bait ball of fish on the surface. We pulled the boat up beside it, turned the engines off and slide off the boat for a closer look. We weren't the only ones in this moment to be intrigued in this bait ball. A cute and curious 4m whaleshark came right up to the bait ball and boat, spending over half an hour circling with us, vertical feeding on the baitball and even nudging the side of the boat. This whale shark shared a special and intimate moment with every customer over this time. During this amazing time, as if this one superstar shark was not enough, a huge 7m Whaleshark friend came to join, also a lions main jellyfish drifted right under the boat with a green sea turtle in tow. In just one frame we were surrounded by two whale sharks, a turtle and a baitball!! True raw Ningaloo magic! Ocean magic that pulls your heart up your throat, takes your breath away and sends your soul soaring! Come see Ningaloo magic with your eyes.