Day 1: Wildlife Of the Western Plains
Upon departing Melbourne, guests will travel west to the beautiful eucalypt forests of the Serendip and You Yangs National Parks to spot wild Koalas and cockatoos including Corellas, Galahs, the iconic Sulphur-crested Cockatoos. Other birds that may be encountered include White-winged Choughs, Emus, Cape Barren, Magpie Geese, Laughing Kookaburras.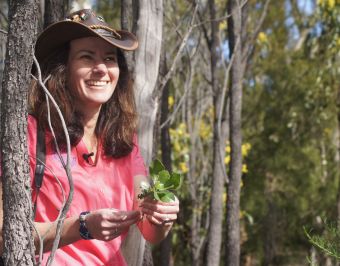 "I've had a connection with the You Yangs for a really long time since I first discovered that wildlife was my thing. My partner and I went there on our first date - and I didn't realise then that I would end up spending so much of my time there with the Koalas. I got used to it and I just think it's extremely beautiful - it's the kind of landscape that I think people expect Australia to look like. White gum trees, the grass underneath, open vistas - it's absolutely beautiful."
Janine Duffy - Guide & Co-founder
Led by an experienced Wildlife Guide, the group will be alongside a Koala Researcher, searching for these sometimes elusive arboreal mammals. To help protect these adorable animals, guests will take part in the "Make a Home for Koala Clancy" conservation project by removing the invasive Boneseed weed.
On the grassy plains, wildlife guides will share how to approach wild mobs of Eastern Grey Kangaroos without disturbing them. A fascinating insight will be given into the complex social life of Australia's most iconic animal, with the opportunity to get close enough to observe these behaviours.
Emus, cockatoos, Superb Fairy-wrens, numerous honeyeaters, Swamp Wallabies, Blue-tongued Skinks and Jacky Lizards are also likely to be encountered.
After a substantial picnic lunch, we continue to the Great Ocean Road where we explore the landscapes and wildlife of this iconic coastline. Travel inland to our guesthouse in the small town of Forrest nestled high in the forest of the Otway Ranges. Prepare for tomorrow morning's early start to search for Platypus.
Accommodation is at Forrest Guesthouse, a boutique country guesthouse, only a short stroll from the Terminus Hotel pub and bistro.