Day 3: (indicative itinerary dependent on seasonal conditions)
The group will start the morning in the amazing Gunyah Sand Dunes as the early morning light reveals the patterns and textures of the dunes. The long white sandy expanses of Almonta Beach will provide opportunities to capture sandstone cliffs meeting the pure white sand and turquoise water.
It is common to see schools of Dolphins and Australian Sea-lions in the surf. Again, depending on the season, there is the opportunity to photograph Agricultural activity in the nearby farmlands – the Canola season is simply spectacular.
In the warmer months, there are also numerous goannas in the area. If photographers are keen to capture underwater species, there is the option to extend the guided tour to swim with and photograph Australian Sea Lions in their natural environment or take a Shark Cage Dive and score your own Great White Shark Photograph.
Alternatively, if photographers desire more outback scenes, a visit to photograph salt lakes at sunset in true outback country can also be arranged.
Your Teacher: Fran Solly
For the past five years, Fran has also been teaching photography and post processing, with her courses being highly sought after. Fran will share her favourite photographic destinations, her experience and knowledge in post-processing & editing and ensure that guests are in the right place at the right time for that perfect photo. Fran has also been an avid birdwatcher for more than 30 years.
She has recently completed training to contribute to the local scientific database through bird surveys, which are conducted across the Peninsula, following her role as photographer to document the Birds of Southern Eyre Peninsula. A selection of Fran's photographs can be found in the recently updated Birds of Southern Eyre Peninsula Field Guide or visible here.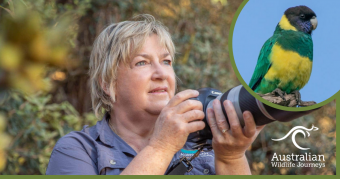 For Beginners & Intermediates
Beginners will learn to use their camera in manual mode. At the end of the workshop you will confidently be using aperture and shutter speed to achieve the look you want in your images. You will also understand the important camera features a little better. In post processing you will be introduced to Adobe Photoshop Lightroom and be able to do basic tone and colour corrections.
- Intermediate - You will come to the workshop with a basic understanding of aperture and shutter speed. During the workshop, you will build on your ability to shoot in manual mode and learn more about the functions and settings of your camera. You may already be using Lightroom for basic processing and we will build on this knowledge to introduce some of the more creative elements of the program.
If you are not sure what level you are at just let us know and we will call you for a chat.
During the workshop you will learn:
To confidently shooting manual mode, taking control of your camera to get the look and feel you want to each image.
Focus
Shooting in RAW
Which lens to choose
Composition for story telling
Getting the exposure right in camera
What white balance is and how it affects your images.
When to use a tripod
Using your camera after dark (depending on the phases of the milky way and the moon we will try our hand at Astro Photography and/or Light Painting.)
Photographing Wildlife and Birds
Shooting and Processing Panoramas.
In Post Processing we will work through:
downloading your images, rating and keywording to ensure they are easy to find in future.
basic editing including straightening horizons, balancing tone and colour.
exporting images for print and social media
Workshops are tailored so that no one is left behind and everyone will get the support they need to develop their photography and get some awesome landscape and wildlife images.